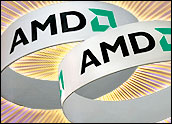 Advanced Micro Devices said Monday it will likely not meet its own already lowered targets for first-quarter sales growth, a sign that the chipmaker is continuing to lose ground to dominant rival Intel.
The company did not provide details beyond saying it was "unlikely to meet" its previously stated goal of US$1.6 billion to $1.7 billion in revenue for the current quarter, which wraps up at the end of March.
Wall Street analyst expectations, as compiled by Thomson Financial, are for revenue of $1.66 billion. The company's sales target had been reduced by Wall Street from $1.8 billion at the end of the previous quarter.
Warning Issued
The Sunnyvale, Calif.-based company issued the warning ahead of a speech by CEO Hector Ruiz planned for later Monday at the Morgan Stanley Technology Conference, where Ruiz is expected to offer more insight on the financial situation, lay out a product road map and comment on current industry trends.
AMD has seen its growth slow considerably after larger rival Intel began flexing its pricing muscle in recent quarters. After winning market share for several straight quarters, AMD has seen the trend reverse despite the fact that it has convinced an increasing number of PC makers to use AMD chipsets.
Losing Ground to Intel
AMD shares slumped in early trading Monday, falling about 2.2 percent to $13.87, a price that would represent a new 52-week low for the No. 2 chipmaker's stock. Intel shares were up modestly, rising about one-half percent to $19.29.
In the past, the relative financial health of the major chipmakers is often viewed as a fair barometer of future economic conditions.
When taken with last week's stock market plunge and other factors, AMD's warning could be a sign of coming economic weakness. However, the fact that AMD has lost market share to Intel is likely not a cause for overall weakness in demand for technology.
The market for semiconductors is forecast to grow by around 10 percent during 2007, according to the outlook from the Semiconductor Industry Association (SIA).
PC Weakness?
While the overall industry may be healthy, AMD is more exposed to the PC market, Gartner Analyst Martin Reynolds told the E-Commerce Times, and therefore less likely to benefit from the sales of consumer electronics than other chipmakers.
With PC sales growing modestly — and with no as-yet noticeable sales bump tied to the release of Windows Vista — seasonal buying sluggishness is also likely feeding AMD's slowdown, Reynolds said.
Gartner last week lowered its own outlook for semiconductor sales, citing less PC demand than expected — chip sales growth for 2007 will be around 6.7 percent, down significantly from the 9.2 percent growth rate that Gartner had forecast earlier.
Both Gartner and the SIA have forecast a weaker first half of 2007, with chip sales rebounding later in the year. A slower sales environment could pressure companies to lower prices to clear inventories, Reynolds noted.
Meanwhile, Intel's new products have sold in the space where AMD had made gains, such as in enterprise servers and desktops. AMD's next round of products isn't scheduled for release until later this year.
Intel may be in a position to roll out its own next-generation chips earlier than planned as new 45-nanometer plants have begun to come online, FTN Midwest analyst JoAnne Feeney said.
In a research note, Feeney said that if Intel gets products to market faster, AMD might have to adjust its pricing on current chip lines and its own next-generation products, known as "Barcelona."