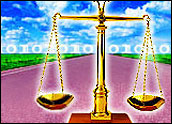 Intel may have deleted some documents requested by Advanced Micro Devices as part of an ongoing antitrust lawsuit, Intel attorneys said on Monday. In response, AMD accused the leading chipmaker of apparently destroying evidence.
In a letter to U.S. District Court Judge Joseph Farnan Jr., Intel said some internal e-mail messages relevant to the case are missing.
The company put a document-retention program in place around the time AMD filed the suit, but some e-mails were not permanently secured, said Richard Horowitz, an attorney representing Intel.
Something Went Wrong
"Intel is taking this matter very seriously," Horowitz wrote to the judge. "It very much regrets this happened."
AMD responded with a sharply worded criticism, claiming that Intel "has apparently allowed evidence to be destroyed," adding that Intel's effort to preserve all relevant documents was "ill-conceived" and "lackluster."
Millions of documents, including thousands of e-mail messages among Intel employees and with third parties, could be relevant to the lawsuit, said AMD.
"Everything that could have gone wrong did go wrong," AMD added.
The two sides are due in court later this week, when the judge is expected to bring up the status of the documents. The case has been moving forward slowly since June 2005.
Human Error?
The suit came soon after Japanese regulators found Intel had abused its market position and pressured customers into not working with AMD. The suit alleges that Intel used various practices to bolster its already dominant position in the PC chip market, using incentives or threats to convince computer manufacturers — such as Dell and others — to use Intel products rather than AMD's.
"Earned success is one thing," AMD CEO Hector Ruiz said at the time. "Illegal maintenance of a monopoly is quite another."
Not long after the suit was filed, AMD notified the court it would seek a host of documents from Intel, including employee e-mail messages. The possible loss of e-mails was likely attributable to human error, said Horowitz in his note to the judge.
Although Intel told all employees to keep e-mails on their hard drives, some mistakenly assumed that messages that were not deleted would be preserved automatically by the company's network. However, as in many corporate settings, Intel's e-mail servers delete messages occasionally to conserve space, Horowitz added.
Intel failed to notify "hundreds of employees" of the need to retain e-mails that could be deemed relevant to the case, Horowitz said, adding that while most of the messages were generated after the suit was filed, some older e-mails could be among those missing.
Battle Royale
The missing documents may not have a bearing on the main allegations, which will come down to whether or not AMD can prove that Intel violated decades-old antitrust laws.
The complaint is not a new one. AMD has urged regulators in Japan and Europe to investigate Intel — European regulators continue to probe the chipmaker's business practices, having conducted a series of raids more than a year ago at PC makers and other third parties, for instance.
Both sides knew the case could take years to unfold, and AMD likely realizes that even if it proves its case, the outcome may not change marketplace realities dramatically, Gartner analyst Martin Reynolds told the E-Commerce Times.
Since the case was filed, AMD started to win back market share but in recent quarters has seen economic gains minimized by a resurgent Intel.
In one outcome, Intel would be ordered to abandon any practices deemed anticompetitive, which could create a more level playing field but one in which Intel remains the dominant player, Reynolds noted.
"Intel's size means it can always invest more in research and development and capital projects like new chip plants than AMD can," he said. As a result, Intel can bring new chip lines to market faster and respond to new AMD innovations more rapidly.
"Ultimately, AMD's ability to compete is limited by their capital and size as much as it is by anything Intel does," said Reynolds.