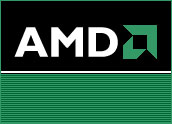 Taking aim at one of the strong suits of rival Intel, AMD today released two new mobile processors, one meant to appeal to performance-hungry laptop users and one to target the tablet PC niche.
AMD said new mobile computers sporting its Athlon 64 3400+ model chips will be available for the back-to-school computer shopping season from Epson Direct. PC maker Alienware is at work on a gaming machine using the chip and expects it to be available by the end of the month.
Business and Home Users
AMD spokesperson Jo Albers told the E-Commerce Times that the 3400 chip, with a speed of 2.2 GHz and 1 MB of cache, is aimed at both business and personal computer users who want "mobility without giving up maximum performance."
AMD also is hoping its 64-bit Athlon chips will appeal to users who want to be ready to run next-generation software, including high-performance video games built on the 64-bit platform. "AMD continues to push the performance envelope," AMD Vice President Marty Seyer said in a statement.
AMD also debuted the Athlon XP-M processor 2200+, designed for use with tablet PCs. Both chips are now available worldwide, the Sunnyvale, California-based company said.
Albers said the key features of that chip include power-saving technology designed to extend the battery life of those machines. "We feel that those type of ultra-portable device users desire longer battery life," she added.
Built-In Security
The mobile chips will offer extended virus protection, an enhanced security feature already available on AMD's 64-bit desktop chips. The feature is designed to work with Microsoft's XP Service Pack 2, which is set to be released before the end of the summer, and is expected to reduce the threat of many viruses and worms.
"We know that it's very important to both our corporate and consumer audiences to have the peace of mind of better security," Albers said.
While the feature won't make notebooks virus-proof, the XP upgrade will stop many of the thousands of viruses that are discovered each year, said Ken Dunham, director of malicious code at iDefense.
"It won't stop the more sophisticated threats, especially those that we haven't seen yet," Dunham told the E-Commerce Times. "But it will block a lot of the less sophisticated code that can be a nuisance or worse. It will stop the low-hanging fruit, so to speak, and that's a good start."
Battle Ground
Intel's mobile chips, especially its Centrino and Pentium-M lines, have been a powerful source of growth and profits in recent years as more computer buyers choose laptop computers over desktop models.
From a strategic standpoint, AMD might be trying to capitalize on a couple of missteps from rival Intel in the mobile arena. In January, Intel said it would postpone the launch of its next-generation of Pentium-M chips because of manufacturing issues. Published reports over the weekend suggested Intel would not meet the target date for launch of its Alviso mobile chipset, which it hoped to make available before the end of the year.
Still, the launch highlights the uphill battle that AMD faces in trying to upstage Intel. When it launched its new Pentium M line in May, Intel was able to say that computer makers such as Dell and Hewlett Packard — the world's two largest computer makers — would build machines using the processors.