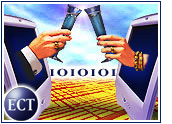 In a bid to increase sales — especially in its electronics, tools and kitchen (ETK) segments — Amazon.com (Nasdaq: AMZN) launched a long-planned wedding registry Thursday.
"They really could use a boost in that area," Morningstar.com analyst David Kathman told the E-Commerce Times. "I'm still a bit skeptical about their ability to make ETK more than a small, niche part of their business. This wedding registry may help boost sales a bit, but we'll have to see."
Amazon touted the new registry for its ability to offer one-stop shopping for kitchenware, DVD players and coffee table books as well as convenience for out-of-state and international buyers.
ETK E-Tanking?
Sales in Amazon's ETK sector actually declined during the company's profitable and record-setting fourth quarter.
According to the company's earnings release, revenue generated by the ETK segment fell to US$216 million in the fourth quarter of 2001, down from $220 million in the same period during 2000.
The e-tailer noted, however, that its 2000 ETK sales figures included electronic game sales, which now are counted as Toysrus.com sales. With those sales factored out, the sector would have gained 5 percent year over year, Amazon said. That gain is still well below the company's overall 15 percent year-over-year sales growth rate.
Slow Adoption
In addition to enabling couples to create and update wish lists, the registry will let customers track purchases in real time. Amazon noted that its free shipping offer, which applies to most orders of more than $99, will make long-distance purchases more feasible.
Amazon's wedding registry launch comes more than two years after the e-tail giant invested in bridal registry Della & James. Amazon also has operated its own Wish List gift registry for well over a year.
But the online registry market so far has received a mixed reaction from shoppers. While registries are wildly popular in brick-and-mortar stores, they have been slower to win consumer approval online.
According to a November 2001 report from Web research firm Jupiter Media Metrix (Nasdaq: JMXI), just one-quarter of online shoppers have visited an Internet gift registry, and less than 10 percent have either created a registry or purchased from a wish list.
"Online buyers have not adopted the use of online registries or wish lists to research or purchase gifts, despite the benefits they bring to ease the gift-purchasing process," Jupiter analyst Rob Leathern said in the report.