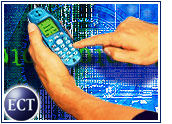 Alltel (NYSE: AT) was up US$1.59 at $54.70 early Thursday after the communications company announced a reorganizationthat includes 1,000 job cuts.
The company said it will reduce its operations to three geographicalregions from five, with regional bases in Cleveland, Ohio; Charlotte, NorthCarolina; and Little Rock, Arkansas.
"This reorganization reaffirms Alltel's commitment to grab its share of thecustomer growth in the wireless business," said president and chiefoperating officer Scott Ford.
Over the past three years, Ford said, thecompany has doubled its workforce, adding more than 10,000 employees. According to the company, the job cuts will include both early retirements and layoffs.
The Little Rock, Arkansas-based company also predicted 2001 earnings pershare of $3.20 to $3.35, with earnings from current businesses rangingbetween $2.85 and $3. Analysts had expected the company to earn about$2.97 per share.
Alltel said it expects to add 2.4 million to 2.5 million new customers thisyear, with a net gain — after losing some subscribers — of 500,000 to550,000.
"As we enter 2001, it is imperative that Alltel have a flexible andresponsive organization that can compete aggressively," said Ford. "We mustcontinue to simplify and streamline Alltel's entire organization to maintaincustomer and earnings growth in an increasingly competitive environment."
Alltel reported net income of 62 cents per share on revenue of $1.8 billionfor the fourth quarter ended December 31st. Wireless communications and"emerging businesses" were Alltel's strongest sectors during the quarter, thecompany said.
Alltel shares are down from a 52-week high of $73.38.