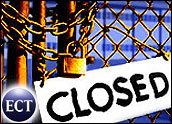 BetOnSports.com, the UK-based online gaming site whose CEO faces accusations of fraud, has shut down its U.S. operations. The site has become a flashpoint in the online gambling debate since the charges were initially filed almost a month ago.
A note on the company's Web site says the firm made the decision, in light of court papers filed in the United States, to "temporarily" suspend the site.
"During this period no financial or wagering transactions can be executed," the statement reads. "Further information will be posted once the company is in a position to do so."
Layoffs and Payouts
Separately, the company said it would make an effort to pay users what they are owed "in an orderly manner" and would shut down operations in Central America where it ran the U.S. site, with an estimated 800 people put out of work in various locations as a result.
The move could be a death knell for BetOnSports, since the vast majority of its revenue — around 80 percent by recent counts — came from gamblers based in the United States, where online gaming is considered illegal under decades-old regulations that until recently were rarely enforced.
Bankruptcy is a possibility for the company, which has become the center of a renewed focus on the issue of Internet-based gambling on sporting events and casino-style games. Legislation is currently pending in Congress that would clarify laws to make it clear such gambling is illegal, and law enforcement is stepping up efforts to crack down on the activity using existing laws.
Founder Gary Kaplan and former CEO David Carruthers were among those netted in a sweep that resulted in some 22 charges of charges of fraud, tax evasion and illegally taking sports bets from U.S. residents. A judge also issued a restraining order aimed at preventing the company from taking wagers from American residents.
Singled Out?
Carruthers and others have since pleaded not guilty in the case. BetOnSports fired Carruthers from its top post just a few days after his arrest.
The company was having cash flow problems even before the scandal hit and was forced to cancel a planned secondary stock offering at the time that news of the arrests broke. BetOnSports went public in July of 2004, raising about US$100 million in the process.
BetOnSports is far from the only online site taking bets from U.S. residents in what appears to be illegal activity. However, Kaplan and Carruthers may have compounded their legal exposure — and brought additional law enforcement attention upon themselves — by allegedly avoiding taxes and making other moves meant to thwart regulation.
Kaplan, in particular, is known to authorities, having been at the forefront of the online gambling trend a decade ago.
Other gaming sites that maintain a lower profile may continue to attract U.S. gamblers, including many of BetOnSports' former customers, without becoming targets for law enforcement.
For its part, BetOnSports turned its attention to its reportedly profitable operations in Asia, where the company has strong market traction.
Borders and Boundaries
In the U.S., meanwhile, the debate continues to rage about how to handle Internet gambling, with some favoring legislation that will establish oversight and regulation, while others call for tougher laws to protect underage Internet users and problem gamblers.
Last month, the U.S. House of Representatives passed a law that would ban Web gambling in all but a few limited circumstances, such as horse racing, which has legal protections already in place. The Senate appears poised to let the current legislative session end without taking that bill up, however, making it unlikely any new laws will be passed until next year at the earliest.
While Congressional Republicans have been pushing the gambling issue in a mid-term election year, the gambling industry is lobbying for a regulated environment, arguing that billions of dollars in new revenue could be generated for government coffers if Internet gambling were legal and taxed.
The U.S. has already run into international jurisdiction complaints from the world community over online gambling in the past, according to Christiansen Capital Advisors analyst Sebastian Sinclair. Since the companies that take bets from U.S. residents are based overseas, often in the Caribbean or the UK, those issues will have to be addressed at some point.
With demand for online gambling well established, companies will continue to seek ways to reach the U.S. audience, Sinclair told the E-Commerce Times, noting that "the issues of enforcement are only beginning to be tested."