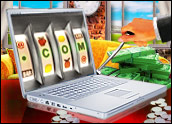 With debate over the regulation of online gambling continuing in Congress, law enforcement sent a clear message that existing laws would be aggressively enforced Monday by seeking the arrest of both the CEO and the founder of a leading online sports betting site.
David Carruthers, CEO of BetOnSports, was arrested, and an arrest warrant was issued for Gary Kaplan, the company's founder. UK-based BetOnSports takes the majority of its business from U.S. customers.
Possible Prison Time
The two men face a range of charges — some of them felony offenses that carry potential prison sentences — including racketeering, conspiracy and fraud.
Another nine people have been arrested or are being sought by authorities in the case, and the U.S. Department of Justice said it will seek court-ordered forfeiture of some US$4.5 billion worth of cars, computers and other assets belonging to those being charged.
In addition to the individual charges, a federal judge in St. Louis also issued an injunction ordering BetOnSports to stop taking bets from U.S. Internet users, and the FBI instructed four telephone companies to stop providing services to the company.
"Illegal commercial gambling across state and international borders is a crime," said Catherine L. Hanaway, U.S. Attorney for the Eastern District of Missouri. "Misuse of the Internet to violate the law can ultimately only serve to harm legitimate businesses. This indictment is but one step in a series of actions designed to punish and seize the profits of individuals who disregard federal and state laws."
The timing of the sweeping action underscores the tensions around the online gambling debate. So far, lobbyists have held off Republican-led efforts to pass a law banning most forms of Internet gambling — with exceptions for horse racing and state-run lotteries — labeling such efforts an election-year stunt meant to appeal to conservative voters.
The arrests are a reminder that online gambling is considered illegal, though law enforcement has largely looked the other way in the past, and what few attempts have been made to enforce the laws on the books have run into international complications due to the off-shore operations status of the companies involved.
Ripple Effect
Monday's legal action was felt by investors in London, where many gambling sites are traded publicly. Trading in BetOnSports was halted Tuesday after losing 17 percent in trading the day before, as word of Carruthers' arrest began to spread. BetOnSports is one of the largest public betting companies, having reported handling $1.77 billion worth of bets for the fiscal year that ended in February, with profits of just over $20 million.
While Carruthers remained in custody as of Tuesday morning, authorities were seeking Kaplan, who rose to fame as the founder of the betting site after setting up gambling operations in Costa Rica in the mid-1990s, following a previous arrest on gambling charges in the U.S.
The BetOnSports indictments were handed down June 1, and a judge unsealed them Monday following Carruthers' arrest.
Also facing charges are Kaplan's brother and sister, and several other BetOnSports executives. Three Florida-based companies and the principals from each are facing charges as well: Direct Mail Expertise, DME Global Marketing and Fulfillment and Mobile Promotions.
The indictments allege violations began as early as 2001 and continued into this year. The alleged violations include breaking the Wire Wager Act, which the Department of Justice noted has prohibited other major betting sites operating in the UK and elsewhere from entering the U.S. market.
The Justice Department alleges that Kaplan failed to pay federal taxes on more than $3.3 billion in wagers taken from the United States and seeks forfeiture of Kaplan's assets to recover those taxes. It also charges that bets were taken from undercover agents based in St. Louis. The Florida companies are charged with providing BetOnSports with the equipment used to complete its bet-placing and payout processes.
To keep the operation going, the defendants allegedly engaged in "a pattern of racketeering," including "repeated mail fraud, wire fraud, operation of an illegal gambling business and money laundering," the Justice Department said.
Global Issues Ahead?
In the past, the World Trade Organization (WTO) has sided with Caribbean-based Internet gaming sites the U.S. has sought to shut down, saying the U.S. is being inconsistent in allowing a patchwork of state and national laws to govern gambling. Currently, horse race wagering is viewed as exempt from a 1930s-era law banning telephone-based betting, for instance, and the existence of state lotteries, the WTO argues, means the U.S. can't ban similar offerings which originate outside the U.S.
The U.S. has been on a divergent path from most of the world, where Internet gambling is being embraced and, in some cases, heavily regulated, said Christiansen Capital Advisors analyst Sebastian Sinclair.
"There is an argument that regulating is a more effective tool than a ban, and the law enforcement problems that come with enforcing a national law internationally are obvious," he noted.
Global operators of Internet gaming sites have targeted the U.S. market despite the risk of prosecution because the market is massive, especially in the sports book arena, and the Internet is well established as a commerce channel, continued Sinclair.
"The risk has always seemed minimal, but now we know that can change quickly," he added.