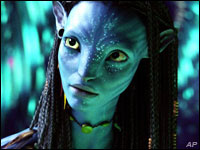 Sometime within the next two years, you'll feel like ducking for cover the next time the Discovery Channel's "Mythbusters" team blows something to smithereens. Yet you'll be in the comfort of your living room, wearing oversize glasses while watching a new 3-D television channel whose very existence was first announced Tuesday.
Discovery, Sony and Imax said they would begin the process of starting a U.S. television network dedicated to 3-D programming. The announcement may have seemed like a "placeholder" effort of sorts to technology observers; there's no official name for the network, the search is on for an chief executive, and no cable or satellite companies have committed to carrying the service, much less discussed whether it would be a basic or premium service.
It all may be an attempt to ride the current 3-D wave now cresting with the box office success of "Avatar" and the expected unveiling of several 3-D television sets at this week's 2010 Consumer Electronic Show in Las Vegas.
Yet Discovery, Sony and Imax represent three A-list names in the technology and content business that could guarantee more than a fighting chance for home 3-D entertainment. Imax 3-D theaters are reaping the benefits of "Avatar" and did the same last summer with 3-D versions of "Up" and "Harry Potter and the Half-Blood Prince;" the company has led the way in refining the technology light-years beyond red-and-blue cellophane lenses and the days of "Bwana Devil." Sony worked with "Avatar" director James Cameron to develop the next-generation 3-D cameras used in the making of his groundbreaking film. Discovery was one of the first media companies to embrace the high-definition television movement.
TV History in 2010?
The Discovery/Sony/Imax announcement wasn't the only 3-D network initiative announced prior to CES. ESPN will launch a 3-D network in June with the broadcast of a World Cup soccer game, according to a report in USA Today. Clearly, the building blocks are being set in place by major corporate names to bring about what Discovery founder John Hendricks called "television history" during a conference call with reporters Tuesday.
"The three partners in this room are all committed to the proposition that consumers will migrate and seek out closer-to-reality television experiences," Hendricks said. The as-yet-unnamed network will obviously have initial appeal to early adopters, he added, but "I'm convinced in five to 10 years we'll see the mass rollout of this."
When asked if there was a real consumer demand for 3-D in the home, Sony CEO Howard Stringer pointed to the slate of 3-D movies now in production by various studios and the past rollout of HD technology, including Blu-ray. "Consumers are very enthusiastic about these experiences. Even though there are not dozens of movies out right now, there is sort of a rolling rhythm to this. We've seen 3-D concerts [a summer Jonas Brothers film], and we already have 3-D video games. There's a whole genre of entertainment that can be expanded by all of us to more success."
Discovery will initially provide content from all of its domestic channels, including TLC, Animal Planet and the Science Channel. The company also has a proprietary technology that executives say can convert 2-D programming to 3-D and will also shoot original content with 3-D cameras. The executives believe that 5 million early adopter homes would buy the hardware necessary to be among the first to view this content, and then another 20 million affluent households that crave a premium home theater experience would then join, followed soon by mass adoption.
3-D Advantages, Real-Life Obstacles
The recent history of the high-definition television rollout is indeed an indicator of how 3-D networks might survive, according to Ben Bajarin, director of Creative Strategies' consumer technology practice. "All those companies [Sony, Discovery, Imax] were pioneers in high definition in terms of broadcast and volume. It's important, when you come at it from a content standpoint, that you do have that level of weight behind it," Bajarin told the E-Commerce Times. "They helped move adoption with HD, and similar things might be happening with 3-D."
ESPN carries the same clout with its 3-D plans, with the added advantage of some sports-hungry viewers with disposable income to satisfy their fanaticism. "The World Cup is going to be in 3-D this year. Those types of fans, those types of consumers, typically are early adopters or may have an affinity towards new technologies. So that's a great market to cater to when you're trying to get a new technology adopted."
Bajarin sees the forthcoming negotiations with carriers as the earliest and perhaps most important challenge to 3-D networks. "Folks like Comcast and DirecTV and Dish are really going to have to support the infrastructure" in terms of the bandwidth needed to distribute 3-D programming. Yet executives from the three networks said during the conference call that they've been told by multi-service operators that their proposed network won't take up any more bandwidth than what an HD channel uses today.