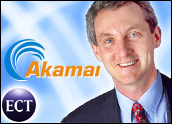 Enterprises today have a number of key questions when it comes to setting up and maintaining an online presence. Some of these concerns include critical Web-related security problems; scalability; and being aware of new online challenges expected in 2006.
Who better to ask about these issues than Akamai? Described as an "Internet network accelerator," Cambridge, Mass.-based Akamai offers services to ensure that its clients' Web sites are scalable and remain up and running at all times.
With 1,200 customers and growing, the company is a leader in the Internet content delivery space. In addition, Akamai services encompass application performance, on-demand distributed Web applications, business performance measurement, monitoring and management.
The company has "Akamaized" the operations of some of the largest Internet brands and boasts that one out of every five Global 500 companies trust Akamai.
Akamai Co-Founder and Chief Scientist Tom Leighton offers advice for the present and hope for the future — while painting something of a grim picture in certain areas — as a new Internet era unfolds. When the E-Commerce Times caught up with him recently, the discussion centered on e-business' prescient problems and how approaches to scalability, performance and Internet routing can impact a company's bottom line.
E-Commerce Times: What do you see as prescient problems, namely security-related, with the structure of the Web?
Tom Leighton: The biggest problem is the Internet really doesn't have any security integrated. The basic protocols are insecure. The bad guys have figured out that there is a security loophole and they are exploiting it to conduct wide-ranging forms of attack — everything from sending you to a spam site to identity theft to phishing and pharming.
Online identity theft is skyrocketing. The financial toll is staggering. There are billions of dollars at stake in this. The statistics I have seen are striking. There are also increasing DoS [Denial of Service] attacks against Web sites. Recent Symantec studies say DoS attacks were up by a factor of six during the first half of 2005, and cyber-extortion is a new crime that's emerging on the Web.
All of this has to do with the fact that there isn't security [in the Web's infrastructure]. The software is ubiquitous and it's full of bugs. So it becomes very easy for attackers to make large-scale exploits on the Internet. They can take over large numbers of [home computers] and use them to launch attacks. They can steal large numbers of identities fairly simply. It's a source of income for organized crime.
ECT: It seems the consequences are obviously pretty severe if this is left unaddressed.
Leighton: Yes, there is financial loss. But there are also many people who think that consumers are going to become less willing to use the Internet. So we may not be able to keep up the pace of adoption. It would be a real shame, because the Internet offers so much in terms of decreased cost, improved efficiency and improved functionality. E-commerce companies can do all sorts of things on the Web that they couldn't do before. It's a great new source of revenue and efficiency. But if we don't solve some of these problems, some of that may be at risk.
ECT: How do we solve these problems? What can we do?
Leighton: It's not one single solution and, to be honest, Akamai can't solve all these problems. There is no one company that can. It is going to take a major effort by governments through funding of R&D and cooperation with industries to change protocols and improve security.
That said, Akamai can help shelter our customers from a lot of these issues. We can help shield them against DoS attacks. We can help make their site more reliable. We think of it as how to provide a real physical shield around the infrastructure. Akamai's architectural approach is much different. We have a very large distributed network. We direct the end user request to our network that has over 15,000 servers. So there isn't a central point of failure. There isn't a critical point to attack.
ECT: Akamai is often described as an Internet network accelerator. What does that mean?
Leighton: We make the Internet look like it's running faster for our customers. We don't actually accelerate the speed through a wire. We don't even work at that level. We direct a client or end user to a server that's near them, in their city, for the content they want. We serve it closer to the end user, so it gets there faster than if they went across the country for it or across the world for it. So we make it look like the Internet is faster. We also mask latencies to make the site faster, and we make the site more reliable.
ECT: Scalability has always been a key phrase in technology vendors' marketing communications. Why is scalability so critical?
Leighton: When you are using the Internet you can reach a broad audience very quickly. In a short period of time a lot of people might want to use your Web site. Maybe you are running a marketing campaign. Maybe you are running a commercial during the Super Bowl that's designed to drive your brand so people will come to your Web site.
When you are doing that, you don't know how many people are going to come to your site. Even if you did, you would have to provision it with an awful lot of hardware and bandwidth and infrastructure to manage the crowd. But you are only going to use that much infrastructure for a day or a few days. It'svery cost-prohibitive to build out that infrastructure for a short period of time. And heaven forbid you guessed wrong and you are not prepared for the number of people who try to use your infrastructure. Now, nobody gets to use it because it will bring your infrastructure down.
Scalability means it all just works. You don't have to worry about it. Akamai has built out a massive infrastructure that you can take advantage of in an on-demand fashion. You don't have to figure out how big the crowd is going to be ahead of time. We have the capacity to handle it. You would payfor whatever services were used later. That's what scalability is all about with Akamai.
ECT: We talked about security and scalability, but beyond those two issues, where do most companies struggle in terms of their online existence?
Leighton: Performance, particularly for companies that have a global reach or that are running sophisticated applications. A lot of companies today have significant business interests in Asia, particularly China. The connectivity there is very poor and the applications are often virtuallyunusable. This creates a challenge for them. So we do many things to solve those kinds of performance problems to make the site in Asia look like the site in Chicago in terms of the speed of the site. A lot of companies today are worried about reliability and disaster recovery. We handle all that automatically for them so the site is always up.
Companies worry a lot about cost. Today, the predominant method for solving all these problems is "do it yourself." For the long-vested issues or challenges you are facing, you might buy a box or two for each one, and then you buy some boxes to manage those boxes, and a staff to manage that. That gets very expensive very quickly. Akamai handles all that for our customers so you are not buying more infrastructure.
ECT: What are the most common ways companies are losing revenue and increasing costs in their online businesses?
Leighton: Predominantly performance. Performance can have a big impact on the top line or the usage on the site. That's probably the least-understood fact today. People don't understand the impact on their site usage or top line that can take place when they improve performance. Even though your site seems fast enough, making it a lot faster gets you a big impact.
ECT: What are the most common Internet routing instabilities and how can companies address them?
Leighton: There are issues with the major ISPs. They are under financial pressure. They are competing with each other. Yet they have to cooperate because the Internet is made up of 15,000 ISPs today. You will see instances from time to time when one big ISP will get into economic disputes withanother ISP and cut off their peering relationship, thereby disconnecting end users on one ISP from Web sites or users on the other ISP.
Our services allow customers to reach their end users even though the direct Internet pipes aren't available. We route around those kinds of problems on the Internet. It's the major peering relationships and the major geographic boundaries that cause a lot of the issues today.
ECT: What new Web solutions can we expect to emerge over the next year?
Leighton: We are working on several initiatives at Akamai. This year we are doing a major push with our application acceleration solutions. We are introducing our dynamic site accelerator and remote application accelerator. These products are all around B2B and B2C applications that need to beaccelerated and made more reliable. We are adding greater functionality, greater ability to track what users are doing on the site, and greater ability to understand the performance of the application from theperspective of the end user.
On the Web as a whole, I think we will see greater adoption of applications over IP and greater use of IP for media distribution. Already you are seeing a huge use for songs, for example, with iTunes. I think you will see sites become more dynamic and personalized. These are all trends that are in playthis year and will continue to grow over the next few years.