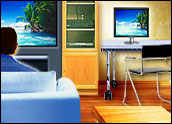 Joost, the video-on-demand site boasting the world's first broadcast-quality Internet television service, hung out its open sign Tuesday with the announcement of its commercial launch. The site also entered the final beta stage, allowing beta testers to issue an unlimited number of invitations to friends, family and colleagues.
"Today marks the beginning of an exciting phase for Joost — we are officially open for business," said David Clark, executive vice president of global advertising for Joost. "We're enabling our viewers to share Joost with their friends and family, and we're working collaboratively with the world's leading advertisers and agencies to design a new ad model for the next generation of television."
Internet TV
Previously known as "The Venice Project," Joost is the brainchild of Internet phone service provider Skype and the peer-to-peer music sharing site Kazaa. The site features more than 150 channels with feature-length programming, including cartoons and animation, film, sports and comedy. Based on a secure, peer-to-peer (P2P) streaming technology, the site has been in private beta testing for several months.
Joost only uses licensed video content. However, to view content from the online video network, users have to download Joost's software.
The site's commercial launch means the site will begin airing advertising campaigns from its 32 advertising partners in May. Users can expect to see advertising from brands like HP, Intel, Nike, Electronic Arts, Microsoft and Sony, to name a few, playing on the site.
Joost will feature first-run and other premium content from Turner Broadcasting System (TBS), the National Hockey League (NHL), Sports Illustrated (SI), Hasbro and Sony Pictures Entertainment. Available later this week, the TBS content includes programming from the company's Adult Swim and CNN networks, such as "Anderson Cooper 360," "Aqua Teen Hunger Force" and "Robot Chicken," as well as documentaries and other news programs. The site has also added a CNN RSS (really simple syndication) feed to the Joost breaking news ticker.
Content from the NHL, SI, Hasbro and Sony will be introduced on the site during the next month. Consisting mostly of "classic programming," the shows will include '70s hit "Starsky & Hutch" and "Charlie's Angels" from Sony and include two animated channels featuring "Transformers" and "G.I. Joe" from Hasbro.
Sports Illustrated's swimsuit issue will come to life with video and interviews of the seasonal must-have. Meanwhile, hockey fans will be able to take in classic game footage initially; however, later this spring the site will host full-game replays of the Stanley Cup as well as playoff highlights.
Legal Video
One thing that sets Joost apart from their competition is that the site focuses on licensed content, not user-generated content, Mike Goodman, senior analyst at Yankee Group, told the E-Commerce Times. This protects that site from charges of copyright infringement and attracts content providers.
"The only material they have is copyrighted and licensed, so content providers like them," Goodman explained. "The second thing that sets them apart is how they distribute the video, using peer-to-peer technology."
The site operates the same as the more familiar music file sharing sites. Users can either search for content or visit one of the site's channels. It then looks to see who has what content and then, instead of streaming the content in real-time, it downloads the content as a progressive download, allowing users to start watching the video in a fairly short amount of time.
Elusive Exclusivity
The site faces a number of challenges as it ramps up to a full launch, namely distinguishing itself from its competitors. While Goodman acknowledged the site has some interesting programming, a lot of it is what he called "me-too" programming that can be found just as easily on other sites.
"They have a mixture of stuff, but not much of it is unique to them," Goodman noted. "There's a lot of stuff, but a lot of it I can get from other places."
Recent survey data indicates that 25 percent of U.S. consumers with broadband connections watch programming on the Internet weekly or more frequently, Joe Laszlo, a Jupiter Research analyst, told the E-Commerce Times. That's up from 15 percent just eight or 10 months ago.
"We're definitely seeing strong growth in the size of the video viewing population," he explained. "But at the same time, there are so many different Web sites and companies clamoring for the attention of those Internet video viewers. It will be a challenge for Joost to grow their audience the way they need to, especially if they are relying on advertisers to pay their bills at the end of the day."
Joost needs to convince advertisers that it can attract a large audience quickly. The site has a couple of advantages with its high-profile contracts with partners such as CBS. Laszlo expects that the site has about one year to prove itself.
Consumers, Laszlo said, are just trying to get their minds around online video content. Joost needs to demonstrate that it delivers high-quality video and content that people want to see. To that end, the video distribution site will need to have a mixture of well-known content as well as exclusive content.
"You can't just build a video site and expect to have a large audience," Laszlo said. "Now that it is launched officially, it is incumbent upon Joost to continue to add to its library of content. If you don't offer video people want to see, it doesn't matter how good the quality is.
"Exclusive content will help build an initial audience, but it is not essential. It would be really helpful if Joost can offer some premium content that other sites do not have," Laszlo concluded.