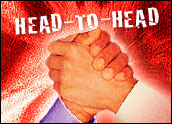 The 2008 presidential campaign season may be gearing up, but there's also another race afoot that has nothing to do with politics. It's the race for consumers' hearts and wallets that's being run by cable companies and telcos, and triple play bundles are the most recent heat.
"Over the last several years, we've seen the cable companies really attacking the incumbent phone companies for phone service, but now we're seeing the turnabout on this," In-Stat Senior Analyst David Lemelin told the E-Commerce Times. "Now the cable companies are the incumbents, and they have a large leg up in triple play."
"The cable operators are in the catbird seat," agreed Elroy Jopling, a research director with Gartner. "They have a market share lead in broadband and in pay TV, and now they're leading into the third one — voice — with a price advantage."
Two Plus One … or More
Triple play bundles are packages offered by a single provider that combine TV, telephone and Internet services. The bundling practice is evolving rapidly to include "quad play" and even more, as wireless telephone, VoIP (Voice over Internet Protocol) and IPTV (Internet Protocol Television) and other services are added to the mix.
Bundling began with double play offerings, which were originally packages in which consumers got both their cable TV service and Internet service from a single provider. The addition of telephony created the triple play, and quad play is typically defined as a triple play bundle plus wireless service — though the variations are increasing all the time.
By choosing a bundled package, consumers get the convenience of a single provider and a single bill for multiple services. The providers get a considerable advantage too.
More Valuable Customers
"Providers are doing extraordinarily well with bundled sales," Mike Roy, vice president of client development and solutions for StarTek, told the E-Commerce Times.
Whereas typically the individual services in bundles are "high churn," meaning that customer turnover is relatively high, "bundle consumers tend to be more loyal," he said.
To wit: Double play customers are 30 percent less likely to shop around than those who buy each service individually, Roy noted, while triple play consumers are 40 percent less likely to do so. "As we offer bundled services, retention is higher, and average revenue per user is much higher as well," he stated.
Put another way, if you consider a customer of just voice service to be one revenue-generating unit, or RGU, then a customer of both voice and broadband has been found to represent 1.5 RGUs, Jopling said. That's half again as much value from one individual customer.
Where Cable Stands
While the cable companies may still be a step ahead, they have their work cut out for them — particularly when it comes to adding wireless services.
Companies such as Time Warner and Comcast already offer wireless mobility through a joint venture with Sprint, but "it's pretty small, still — they're just getting their feet wet," Jopling said.
"It still remains to be seen how effectively the cable companies will be able to add wireless to their offerings, and how synergistic it is," Lemelin added.
A lesson might be taken, however, from the fact that NTL, the United Kingdom's top cable operator, recently bought Virgin Mobile, effectively buying its way into quad play in one fell swoop.
VoIP, on the other hand, has been an area the cable companies have been able to roll out at a lower price than the telcos, which offer it as well. "The cable companies' cost to get into VoIP is much less than that for the telcos," Jopling noted. "It's easy enough for cable companies to take the telcos' price and reduce it by 10 to 30 percent."
The Telco Approach
For the telephone companies, the latest challenge has been providing the TV component — cable's stronghold.
"The telcos are gaining market share without question, and they're getting into TV, but that won't happen tomorrow," Jopling noted.
Many telcos have made deals with satellite providers to be able to offer services such as DirecTV, but they don't have as much control over pricing, he added.
Verizon has been offering individually tailored bundles for three years, and in January it launched six new bundle packages: two double play, three triple play and one quad play, Maria Malicka, the company's director of product line management and bundled solutions, told the E-Commerce Times.
Banking on Fiber
Fiber optics, however, is where much of the telcos' potential lies. Both AT&T and Verizon recently brought fiber optics to the limelight in this country with their U-verse and FiOS systems, respectively, which are alternatives to traditional systems for providing TV and Internet service.
Like those of some cable companies, AT&T's system brings fiber to central nodes, while copper cabling delivers the service the rest of the way to each consumer home. Verizon, on the other hand, is bringing fiber all the way to each home, much like what's already available in Japan.
The result of these new technologies is higher bandwidth and more options for consumers. AT&T is adding about 2,000 U-verse subscribers per week, with plans to surpass 19 million households by the end of 2008, Lemelin said. Verizon, meanwhile, has been ramping up quickly as well, with more than 200,000 FiOS subscribers already, he added.
"With fiber, these companies can replicate everything the cable companies can do, plus they can include wireless in maybe a more credible, synergistic way," In-Stat's Lemelin said.
"With our fiber-optic network, the sky is the limit," Verizon's Malicka said. "It's 'future-proofed' and sustainable for many years ahead."
Coming Soon
The next step in bundled services will be for the providers to begin improving pricing and service, Gartner's Jopling said.
Indeed, Verizon has already begun offering customers add-on options such as round-the-clock support, Internet security, and hosted storage, Malicka said.
Next in the progression will be improvements in TV service, Jopling added, as providers begin offering IPTV and other solutions. AT&T has already begun using Microsoft technology to bring IPTV into 15 or so markets, he said, though market share is still small.
Interactive television is on the horizon too, Jopling said, as is what's called the "three-screen deployment," where content is delivered to consumers' TV, PC and mobile phone screens. Widespread deployment in that area probably won't be until about 2011, he said.
Consumers Take Charge
User-generated content will also get incorporated into the mix. "When you look at TV in a few years, you'll be able to flip back and forth between "Desperate Housewives" and Internet-delivered content such as YouTube," Jopling said.
Ultimately, which bundling business model enjoys the biggest success will depend not just on the individual components but on the entire mix and the user experience, he added.
"That experience is changing already," Jopling explained. "Consumers are becoming content creators and aggregators as well as consumers from anywhere and at any time. It's going to be a wild time."