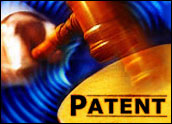 The new film "Flash of Genius" may be based on a 1960s case of patent infringement, but its David-vs.-Goliath story involving independent inventors going up against monolithic corporations continues to spin off sequels well into the 21st Century, says a Minneapolis-based patent attorney. And while the movie uses the automotive industry to tell its tale of innovation, obsession and redemption, the new dramas are being played out on the e-commerce and Internet search stages.
In fact, just three days after the film starring Greg Kinnear opened in theaters, a small Kentucky company, iLor, argued its claim of patent infringement against search giant Google in the U.S. Court of Appeals for the Federal Circuit in Washington, D.C. iLor alleges that Google is using its method for users to interact with a hyperlink that turns up in search results without actually clicking on that link. Summary judgments found in Google's favor at the district court level.
Perhaps iLor can take some encouragement from the story of Robert Kearns, portrayed by Greg Kinnear in "Flash of Genius." Kearns was a Detroit university professor whose basement tinkering produced the first intermittent windshield wiper for cars in 1963. The movie details Kearns' efforts to get the automotive industry to give him credit for the invention, even as it dangled millions of dollars in his face to try to get him to quietly go away. His subsequent court battles would cost him his family, his health and 12 years of his life.
Patent Fights in the E-Commerce Arena
"His (Kearns') invention would survive as a valid innovative invention," Rachel Zimmerman, patent attorney for Merchant & Gould, told the E-Commerce Times. "It really was a flash of genius. The automotive companies had worked on it for years and years and they couldn't figure it out, and he could."
Do Davids still have to throw rocks at corporate Goliaths to get credit for their ideas? Yes, but the legal landscape has changed thanks to technologies and tactics.
"The smaller companies and individuals can be successful, that's still true," Zimmerman said. "But the cost of both prosecuting applications at patent offices and the cost of litigating a patent lawsuits is so enormous that most individuals and small companies can't afford to go forward and do that.
"The tech industry is where you are especially seeing the rise of patent licensing and holding companies. They are buying up these patents and have the economic force and power to go out and enforce them. It's not an incredibly popular idea among larger tech companies."
That's because some of those holding companies buy up patents with no intention of actually turning those innovative ideas into reality; rather, they use them to sue companies and hopefully force them into settlements. The rapidly growing e-commerce industry has proven to be especially fertile legal ground, Zimmerman said.
"As with every case, sometimes the claims have merit and sometimes they don't, especially if you're dealing with online purchasing software, something along those lines, where every company out there is using it. So people who hold patents to those things are able to go out and sue everybody. If the suits have merit, it's a positive thing because you've given some muscle and some money to the patent holder. But in the other instance, where the suits don't have as much merit because the patent may not be valid, then it becomes a nuisance for the larger corporations."
Striking a Balance in Patent Protection
A 2006 Supreme Court ruling involving eBay may have helped turn the tide toward a more balanced approach to patent protection, Zimmeman said. Ebay was sued for patent infringement by a holding company, MercExchange, and the online auction company lost the case. But MercExchange was denied injunctive relief; it was limited to monetary damages in the form of a reasonable royalty "because they weren't practicing their invention. They didn't have the company formed for what the patent was calling for. The company was formed to sue people."
Since then, legislation and subsequent court rulings have tried to set better standards that protect both individuals and small companies with big ideas, and big companies who don't want to face big lawsuits from small holding companies.
"You need to protect society against overbroad monopolies," Zimmerman said. "But on the other hand you're allowing people who truly come up with something special and new and different to get the benefit of the work they put into that. Robert Kearns really was one of those people."
And like Kearns, a few of those people are still launching their rocks against giants, claiming theft of their ideas or inventions. Zimmerman said she's currently representing two of them, but couldn't talk about the cases in detail because of the ongoing litigation. "One of them deals with a food product, the other deals with a game."