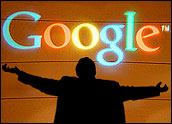 Just days after releasing its Buzz service for Gmail users, Google plunged further into the social media waters on Thursday by acquiring social search site Aardvark.
Though it has not yet been formally announced, officials from both companies have confirmed the acquisition is in progress. The deal is worth $50 million, TechCrunch reported on Thursday.
"We have signed a definitive agreement to acquire Aardvark, but we don't have any additional details to share right now," Google spokesperson Andrew Pederson told the E-Commerce Times.
Similarly, "we can confirm that we have signed the agreement, but we can't offer any further comment right now," Aardvark cofounder Damon Horowitz said.
Discussions leading up to the acquisition had been going on since at least December, according to TechCrunch.
More than 90,000 Users
Formerly known as "Mechanical Zoo," San Francisco-based Aardvark lets users ask a question in plain English and get an answer within minutes from the most qualified person within that user's social network of participating friends and friends-of-friends.
Founded by ex-Googlers, the company claimed more than 90,000 users by last October, when it published a report explaining the premise of its social search engine.
To date, Aardvark has raised about $6 million in venture capital, TechCrunch reported.
An Increasingly Social World
How Aardvark will mesh with Buzz or the other pieces of Google's expanding social media structure isn't yet clear, but it seems likely the search giant will combine the various elements into a socially oriented search system, Rob Enderle, president and principal analyst with the Enderle Group, told the E-Commerce Times.
"Search is at the core of Google's business, and the fact that they've picked up this tool — which is unique and different from their own engine, as well as created by a bunch of ex-Googlers — is what makes this interesting," Enderle added.
"I think they realize the whole Internet is going to become social — it's rapidly happening already," asserted Paul Gillin, blogger, podcaster and author of The New Influencers.
While the company has done "an excellent job of being the best search engine for what people needed 10 years ago, now they're realizing the next evolution will need to incorporate a lot of context from the world in which its users live," he explained.
'A Free-for-All'
"It's going to be a free-for-all," Gillin told the E-Commerce Times. "Google, Facebook and Twitter are all competing to be the social platform of choice to get questions answered, so there's a mad scramble to socialize everything they're doing."
In fact, Google's social push in recent weeks is "starting to look a little disjointed," Gillin opined. "They just got Wave out there, and now there's Buzz — it's hard to keep it all straight. At this point, they're madly pushing technologies into the market without a real framework for what it all means."
It's clear the company is targeting Twitter in particular, however, and "trying to box them in," he added.
The stakes, of course, are significant, Gillin pointed out: "The more Google can interpret what you're looking for, the more targeted an ad they can deliver — and the more they can charge for it."
Contextual Advertising
Much of the new focus on social media stems from the fact that there's been a fundamental shift in power away from corporations and towards cybercitizens, Lon Safko, social media entrepreneur and coauthor of The Social Media Bible, told the E-Commerce Times.
As a result, "the companies that are savvy, like Google, are looking for more and more ways to create searches based on peer review," Safko explained.
The next step, as Gillin noted, will be advertising.
"Google has been pretty gentle with us" so far when it comes to advertising, but ultimately, "it will start inserting contextual advertising into peer review queries," Safko said. "We know that."
Such ads will be even more effective when placed in such queries because they'll reach users right at the moment they're conferring on a topic with their own social network, Safko added.
'Google's Going to Clean Twitter's Clock'
Companies will increasingly begin combining the functionalities offered by tools such as Facebook and Twitter, Safko predicted, and could end up beating out those smaller players in the process.
"If I were Biz Stone, I'd be begging Apple to buy Twitter, because Buzz has a lot more capabilities than Twitter does," Safko concluded. "All Twitter has is its installed base, but they haven't started monetizing it yet — they're still working off venture capital.
"They will crash and burn if they do try to monetize it, but if they don't, I'm afraid for them," he added. "Google's going to clean Twitter's clock."