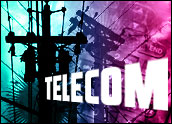 The U.S. General Services Administration (GSA) has announced the winners of is second largest contract to provide next-generation telecom services to federal agencies: AT&T, Level 3 Communications, Qwest Communications, Sprint Nextel and Verizon.
The five companies all have the right to compete for Networx Enterprise contracts from 135 federal agencies looking to update or enhance their telecom-related services with voice, IP, wireless, satellite and IP-centric services.
In late March, the GSA awarded a similar though more expansive contract called "Networx Universal," which is designed to help the federal agencies located around the world across 191 countries. The GSA estimates that the Networx program of contracts is worth US$20 billion over 10 years.
That time around, the GSA awarded rights to bid on Networx Universal contracts to AT&T, Qwest and Verizon — snubbing Sprint, which previously has held numerous federal telecom contracts. With Networx Enterprise, however, Sprint gets a chance.
"For Sprint, it (the contract) keeps them in the game, and for Level 3, it puts them in the big leagues," Warren Suss, a federal analyst-consultant for Suss Consulting, told the E-Commerce Times.
Fewer Requirements
Networx Enterprise, in comparison with Networx Universal, doesn't require the telecom companies to provide as many services and it reduces the geographic requirements. Agencies that don't need worldwide coverage, for example, should be able to choose from more cost-effective, contract-based offerings from Enterprise.
One example of the advanced IP capabilities available from Networx contractors is MPLS (multi-protocol label switching), which provides more flexibility to divert and route high priority traffic around link failures, congestion and bottlenecks, GSA says.
Universal or Enterprise?
Both contracts offer some overlapping services, which means federal agencies will have the opportunity to choose from all five telecom providers.
"I believe many agencies will use Universal to address their core requirements and then may use Enterprise to address emerging and niche service requirements," Suss said. "The Universal vehicle includes a lot of legacy services like frame relay — services that are still in use but are not being promoted by everyone, including Sprint and Level 3."
"If an agency is going to use Enterprise," he added, "it's probably going to be occasions where they want a forklift upgrade of their IP network and want to put everything on their new IP network at the same time. Even the agencies that want to do that have the option of using Universal, because that includes all of the Enterprise services as well."
Impact on Regular Biz
For organizations that aren't federal agencies, will the massive Networx contracts have the potential to affect commercial business pricing and availability of next-generation telecom services?
"The Networx contracts are a showcase … a front window. When you walk down the street, you want to put the best, shiniest shoes in the front window and attract the attention of the buyers, and that's what this is. It's a showcase for these companies to offer services that everyone can watch and follow and then say, 'I want,'" Jeff Kagan, a telecommunications industry analyst, told the E-Commerce Times.
"Will it have an effect on price? I don't know. It'll just bring it out to the forefront. There are so many services that are out today, most customers just get lost, and that's where marketing and advertising come in — and that's where these contracts will come in," he added.