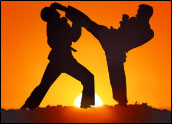 2011: The Year to Date, Part 2
Google is facing growing and well-deserved criticism from the Humane Society, the ASPCA and animal rights activists who are outraged over an Android app called "Dog Wars." The video game, built by Kage Games, glorifies dog fighting and depicts a bloodied pit bull next to the game's logo on Kage's website.
"Dog Wars" could be used as a virtual training ground for would-be dogfighters, said Humane Society President Wayne Pacelle.
Philadelphia Eagles quarterback Michael Vick, who spent 18 months in prison after being convicted of illegal dogfighting, condemned the Android application. "I've come to learn the hard way that dogfighting is a dead-end street," Vick said. "Now, I am on the right side of this issue, and I think it's important to send the smart message to kids and not glorify this form of animal cruelty, even in an Android app."
Google ducked the issue for two weeks before the game was finally pulled from the Android Market on April 28. This incident also shines the spotlight on a larger issue: As Google further expands into the gaming industry via the No. 1 Android operating system, will profits win out over principles and ethics?
To further extend the Android mobile OS and solidify its lead, Google launched the new "Games at Google" gaming unit for which it is seeking a product manager. Let's hope its top management provides some much needed ethical oversight.
Redmond Bleeds Talent
Changes are afoot at Microsoft. In late January, CEO Steve Ballmer announced the departure of 23-year veteran Bob Muglia who successfully ran the company's very profitable server and tools business. Under Muglia's direction, STB recorded a US$1.63 billion operating profit on sales of $3.96 billion in the prior fiscal quarter. Muglia will leave sometime this summer. To date, Microsoft has been mum about his replacement, but word inside the company is that Ballmer forced Muglia out to accelerate Microsoft's cloud strategy.
Whether or not that's the case, Ballmer should speed up the search for Muglia's successor and plug the gaping holes left by other very visible departures: Brad Brooks, a corporate vice president in the Windows consumer marketing group who left to work for Juniper Networks; Matt Miszewski, the general manager of Microsoft's government business, who is taking an executive post at Salesforce.com; and Johnny Chung Lee, the infamous Wii hacker who partnered with engineers in Microsoft's applied sciences group to develop the Kinect for the Xbox 360. Lee is defecting to Google. Ouch!
The Kinect motion camera has been an unqualified success for Microsoft. It sold 8 million units in the first 60 days. Microsoft is also betting heavily on its Windows Phone 7, which has garnered generally positive reviews. Microsoft says it has shipped more than 2 million units to date, but it isn't clear how many of those units have actually been sold. Microsoft will have to bring its A-game to challenge Android-based smartphones, Apple's iPhone 4 and RIM's BlackBerry.
Cisco Pulls the Plug on Flip
Cisco Systems shocked the industry last month with the news that it would cease to manufacture its popular Flip video camera and lay off the division's 550 workers, substantially reducing its consumer businesses. Instead, Cisco whose core networking infrastructure business has been under pressure because of the ongoing economic crunch, will aim for an expanded presence (along with many top-tier tech vendors) in the cloud.
Cisco's stock is trading at about $17.30, which is at the bottom of its 52-week range of $16.52 to $27.74. Cisco is still the market leader in the switch-and-router market; however, it faces increasing pressure from rivals like Juniper Networks and Aruba Networks. Financial analysts are openly wondering how long CEO John Chambers can hold out before he's forced to lower prices on Cisco's networking gear.
Meanwhile, Cisco has unveiled a voluntary retirement program aimed at workers 50 years old whose age plus tenure at the company equals 60; these workers have from May 10 through June 24 to opt in. This is the first time in two years that Cisco instituted such a cost-cutting policy.
Cisco recently hired Gary Moore as chief operating officer to fine-tune its refocused initiatives. Cisco now says it has five product/technology priorities: switches and routers; cloud computing and data centers; "architectures" (network design); and video.
All of the executive personnel and product changes in the high-tech sector underscore increasingly cutthroat, competitive market conditions. To stand still and do nothing is to fall by the wayside and effectively be shut out of the race.