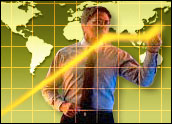 The technology industry was rocked by more dismal news Tuesday with a Gartner report predicting sales of semiconductors will drop by 16.3 percent to US$219.2 billion in 2009 due to the recession and lower consumer spending.
The decline in chip sales in 2009 will mark the first time the sector has seen back-to-back years of declines. Worldwide chip sales in 2008 totaled $261.9 billion, down 4.4 percent from 2007.
Just last month, Gartner predicted semiconductor sales would grow by 0.2 percent in 2008 and decline by 2.2 percent in 2009.
However, the tumultuous economic climate and ever-tightening consumer spending have wreaked havoc with those earlier estimates. Chip sales in the fourth quarter will drop by 24.4 percent compared to the third quarter, Gartner expects, and that will be the worst decline since a 20 percent sequential drop in the second quarter of 2001 during the dot-com meltdown.
Harsh Semiconductor Climate
"In the month of November, it felt like chip demand was falling off the cliff," Amy Leong, a research director at Gartner, told the E-Commerce Times. "Now, we're seeing many chip companies revising their Q4 earnings expectations."
Car manufacturers, mobile phone makers, PC companies and consumer electronics businesses all will slash their production in 2009 as a result of weak demand for their products. That, in turn, will hurt the semiconductor sector even more, Leong said.
Last month, Gartner predicted PC production would grow by 5 percent in 2009. Now, the market research firm is predicting a 5 percent decline in that sector.
"Within one month, we had a 10 percent decrease in PCs alone," Leong said.
Gartner also predicted in November that cell phone production would increase by 3 percent next year. Now, the firm expects a 10 percent decline in cell phone production. Consumer electronics, which Gartner originally forecasted to decline by 2 percent in 2009 is now expected to decline by 15 percent.
Chip Companies Slash Jobs
With demand for their products sinking fast, many chip companies have already started cutting employees in an attempt to conserve cash until the demand picks up again.
"We're seeing massive layoffs across the board at all the chip companies," Leong said.
Some of the biggest names in the business have announced layoffs, including Advanced Micro Devices, Atmel, Spansion, ON Semi, Fairchild Semiconductor, Infineon Technologies, Freescale Semiconductor, National Semiconductor and Nvidia.
Leong said the chip market is suffering from a "chain reaction" of events: the tightening of the credit markets, people having little to no disposable income, and a reduction in corporate spending on information technology.
When, then, can the industry expect some good news?
"We're seeing a solid rebound in 2010 and 2011," said Leong. "There will be improvement of the overall economy, corporations will continue to update their computers, consumers will replace their phones and will buy cars again, because they'll be able to borrow money."
Worldwide semiconductor sales should bounce back to $251.2 billion in 2010, a 14.6 percent increase over 2009. In 2011, worldwide chip sales will reach $274.9 billion, a 9.4 percent increase over 2010, Gartner predicts.