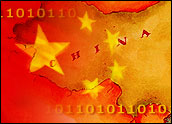 Facebook founder and CEO Mark Zuckerberg was spotted in Beijing Monday at the headquarters of Baidu, China's largest search engine. A photo of Zuckerberg heading to lunch with Baidu cofounder and CEO Robin Li spread across the Internet, setting off speculation that Facebook is trying to figure out a way to overcome the Chinese government's blockade of Facebook. China blocks a number of American websites, including Facebook, Twitter and YouTube.
Kaiser Kuo, Baidu's director of international communications, sent out a tweet to tamp down speculation about the talks, saying, "C'mon people. Robin and Mark have known each other for a while. Mark's interest in China is well known. Keep the speculation in check."
He also tweeted — presumably jokingly — that the rumors of a Facebook acquisition by Baidu were exaggerated.
The two men were introduced in Palo Alto in the fall of 2009 and reportedly have met twice since then. Li attended graduate courses in the United States.
Facebook did not respond to the E-Commerce Times' request for comments by press time.
Facebook Fancies China
Although this trip is Zuckerberg's first known visit to China, there have been signs he has both a personal and commercial interest in the country — for example, he has started taking Mandarin lessons. Zuckerberg is traveling with his girlfriend, Pricilla Chan, and no entourage.
As for Zuckerberg's professional interest in China, there are simply a billion people there, many of whom have not been exposed to Facebook. The Chinese population has been exposed to Zuckerberg, with his selection as Time magazine's Person of the Year, but many don't know about Facebook.
In a talk at Stanford a couple of months ago, Zuckerberg made a comment about his interest in taking Facebook into China, noting that you can't connect the whole world if you leave out 1.6 billion people.
Baidu May Have Investment Dollars
While the Baidu communications director was no doubt kidding about Baidu buying Facebook, it may not be a complete joke.
"Baidu could be looking to invest in Facebook. If you look at the cash reserves they're building up in China, they have to figure out what to do with the money," Rob Enderle, principal analyst at the Enderle Group, told the E-Commerce Times. "There is pressure to invest in the United States to give back some of the cash they're getting, and to create U.S. jobs."
Short of a Baidu investment in Facebook, Zuckerberg and Li could be seeking some other type of partnership.
"They could forge an alliance between the two companies, especially if Facebook positions itself against Google. Baidu kicks Google's butt all the time," said Enderle.
"Facebook is going to try to get into China. One way is to allow a Chinese company to argue they are investing in the United States, taking a major position in a successful company."
In From the Chinese Cold
The meeting could merely have been exploratory in nature. If true negotiations were occurring, it's likely they would be kept under wraps.
"The meeting between Mark Zuckerberg and Robin Li is too public to mean anything substantial, other than Facebook is interested in China, which is nothing new," Azita Arvani, principal of the Arvani Group, told the E-Commerce Times.
"This will probably be one of many more trips for Zuckerberg and other members of his executive team," she said. "Undoubtedly, the heads of Baidu and Facebook have discussed their businesses and how they might enter mutually beneficial partnerships."
The key value of Baidu is the company's connection to its indigenous users and its snug relationship with China's government.
"Baidu knows a lot about Chinese Internet users and how to run a successful Internet business within government-mandated great firewall," noted Arvani. "Hypothetically, Baidu can help Facebook get a foothold in China — and hypothetically, Facebook can provide some sort of preferential treatment to Baidu's search engine."