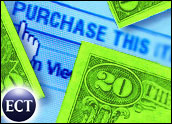 The Internet has become the ultimate democracy in many ways, leveling the publishing playing field for writers with blogging software, allowing musical acts to distribute music without a record label and giving video producers outlets such as YouTube. With e-commerce outlets such as eBay, anyone can sell virtually anything.
Zlio.com, a France-based startup that launched in the U.S. recently, hopes to make e-commerce even more open and grassroots, by enabling anyone — even would-be e-tailers who don't have a product to sell — to set up an online store in a matter of minutes.
"We set out to help the Internet user to sell online, even if they don't know what they want to sell," Zlio founder and CEO Jeremie Berrebi told the E-Commerce Times. "A lot of people are spending a lot of time on eBay buying, who may be interested in being on the other side but don't know what to sell."
Zlio got started in 2006, not long after Berrebi sold his first startup, a Web news search firm called "Net2One," to a French media monitoring firm. Mangrove Capital Partners — known for being the first institutional investor in Skype — has given backing to the startup. To date, it has nearly a quarter-million stores set up on its platform, the majority of them in France.
The Zlio platform enables users to set up a personalized niche shop and then to choose from thousands of products made available through some 350 merchant partners, including 150 in the U.S. End-users get a slice of Zlio's commission whenever a sale is made.
Building a Platform
Though they have different business models, at least in part, Zlio and eBay have something in common: Their names are equally esoteric. Pierre Omidyar's auction site name came from a shortened version of his Echo Bay Technology Group consulting firm — the EchoBay URL (Uniform Resource Locator) was already spoken for — while Zlio, Berrebi explains, "means nothing." It was a rare four-letter domain name that he grabbed in 1997 during the early dot-com boom days.
Zlio's platform was built from scratch. Powered by 35 Linux servers, it is meant to be both user-friendly and to be able to handle disparate information from merchant partners, who turn over their catalogs to Zlio in various formats. The catalogs are then converted and simplified so users can find items to offer for sale. The platform is also designed to be open, with some users adding a Google Analytics module or other third-party plug-ins to their store sites.
Many Zlio users are niche sellers, creating micro-stores around their own interest, hobbies and blog topics. Others create personal shops, which instead of being organized around a single theme are a collection of a user's favorite items.
Many use the shops as wish lists, in fact, and the Zlio platform is built to be scalable to include more social networking elements in the future and already features the ability to vote on a favorite shop. In fact, some users already treat their stores as a type of Second Life-like alternative reality, building multiple shops — each user can open up to 50 shops on a single account — to create virtual neighborhoods.
Plug and Pay
For merchants, partnering with Zlio is meant to be painless and potentially profitable. "They don't have to do anything except make their catalogs available to us," Berrebi said.
In doing so, they hope to tap into a little of the social networking element of platform, which lets end users develop hooks for others with like interests that could lead to purchases. Because the set-up process is free and fast, Berrebi said, users can quickly establish new stores around a news event or a movie debut.
Many others are eager to tap into the same trends and opportunities, with some of the largest Web players seeking to find ways to turn social networking into e-commerce leads, sales and recommendations, Forrester Research analyst Shar VanBoskirk told the E-Commerce Times.
To date, those efforts have been either met with resistance, as in the case of Facebook's Beacon project, or met with small-scale success, she added. The appeal is powerful, however, as consumers trust their friends — even their online friends — to steer them toward products and services that will match their interests and tastes. "Marketers know that [if] done on a large enough scale, endorsements from regular consumers could be every bit as valuable as celebrity endorsements," VanBoskirk added.
Already, some France-based merchants have seen Zlio drive as much US$5 million in revenue, the firm said, and more expansion is on the way. A UK site launched recently and a German version will be up this spring.
"We feel we've built a platform that can be scaled up in a number of ways," said Berrebi, including additional merchant services to roll out in coming months.