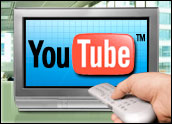 The crumbling wall between TV and the Internet may soon be reduced to dust. YouTube is preparing to debut 100 TV channels, partnering with dozens of media companies, Hollywood production companies, and celebrities including Madonna, J-Z, Ashton Kutcher and more. The subjects range from health and family issues to sports and dance.
YouTube has paid more than US$100 million to content providers — up to $5 million per channel — according to The Wall Street Journal . The payments are an advance against the 55 percent each content provider will receive from advertising on its channel.
Each will run about 25 hours of new, original programming per day. A handful of the channels will launch this fall, with the balance of the 100 channels launching in spring 2012.
Other participants include Deepak Chopra, skateboarding star Tony Hawk and Sofia Vergara of "Modern Family." YouTube is inviting viewers to sign up for individual channels.
YouTube did not respond to the E-Commerce Times' request for comments by press time.
The Plight of Traditional TV
The YouTube TV launch may put another nail in the coffin of traditional TV. Internet streaming is moving to the point where it will become indistinguishable from broadcast and cable TV.
"Traditional TV as we know it has been gone for a while," Steven Savage, technology project manager and Geek 2.0 blogger told the E-Commerce Times. "From the rise of reality shows to deals with companies like Netflix, TV is not what we knew 10 or 20 years ago."
The YouTube launch is part of a much larger trend toward streaming Internet video content on the TV, said Savage. "YouTube and Google are going to get their own unique content. What you want to watch is who follows suit."
YouTube's move forecasts the end of any separation between TV and the Web, he noted, with the source of content viewed on a television set losing all importance.
"The full breakdown will happen when more companies jump into this," Savage predicted, "and the networks try to adapt to it."
A Distributor's Content Grab
YouTube's TV effort also reflects a profound change in content distribution.
"What you really want to watch here is how this method of distribution affects things like Hulu and Netflix," said Savage. "This is a case of a distributor also becoming a content provider — and if that doesn't make you think of Amazon's latest moves into publishing, think again."
There's no reason for a distributor not to be a producer or a content enabler, he noted. "Imagine the publicity this brings to smaller efforts on YouTube. The modest efforts may become more easily found."
The Internet Grows Up
One hundred channels with content provided by major stars and leading production companies will likely make for high-quality offerings, so YouTube should be able to make a big splash with this initiative.
"This is the maturation of Internet TV," Roger Kay, founder and principal of Endpoint Technologies, told the E-Commerce Times.
This scheme is a good one for the content providers, he said. "It's motivating — and it looks like YouTube has the right stable of providers. It should work if they have good original content and not redistributed content."
At the moment, Web-based content does not deliver the same quality and reliability as traditional TV. This may be a problem for YouTube unless it matures soon in those respects.
"The streaming capabilities in today's Internet infrastructure works, but it is not quite as good as cable," said Kay. "It would be a problem if a lot of viewers start streaming at once."
YouTube is likely working to overcome this barrier, though, he said. "It may be a matter of timing to get it right, but even so, if the infrastructure is not quite ready, it still makes sense for YouTube to get in early."