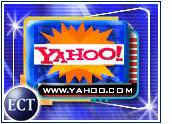 Leading Internet portal Yahoo! (Nasdaq: YHOO) on Monday rolled out a new version of its instant messaging (IM) service, one that will enable users to place international phone calls through their personal computers.
The feature comes amid an upgrade of Yahoo's IM service and is the latest in a series of attempts by the portal to find additional sources of revenue in its scramble to decrease dependence on advertising dollars.
Yahoo! director of messaging products Lisa Pollock said that overseas calling was the "next logical step" for the portal's communications offerings.
"We've introduced an even more powerful suite of communications services," Pollock said.
Yahoo! Messenger already enables users to place domestic long-distance calls at a standard rate of 2 cents per minute.
Prepaid Phoning
Users of Yahoo! overseas calling must first prepay for the phone time by purchasing a calling card. The card, which becomes part of Yahoo's e-Wallet system, also enables customers to track their phone usage.
Pollock said Yahoo's calling prices will be "very low cost" and competitive with traditional long-distance carriers.
The overseas calling feature is part of an upgrade of Yahoo's IM service, which lags behind America Online's in popularity, but has made substantial gains in market share since being launched early in 1998.
New features include the ability to archive text messages in addition to more address book functions. The IM upgrade is also available to wireless devices.
Taking Steps
Yahoo! began to search for alternative revenue sources early this year, instituting listing fees on its auction site for the first time in January. That move had its own costs, resulting in a reported 80 percent plunge in listings on the site.
Since then, Yahoo! announced a plan to offer premium content on its Finance site for US$9.95 a month, and said that it would offer "sponsored listings" to companies that want top billing in Yahoo's directory of businesses, with prices ranging from $25 to $300.
While Sunnyvale, California-based Yahoo! remains one of the strongest Internet companies, the moves have not enabled it to completely escape the pain of the economic slowdown and the hit to dot-com firms in particular.
Even as it met lowered revenue expectations for the first quarter, Yahoo! announced last month that it planned to cut 420 workers as it tried to cut costs in the face of a sluggish outlook.