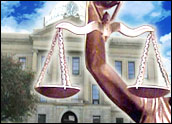 Reviving a nearly 5-year-old case that has tested the limits of local jurisdictions in the Internet era, Yahoo has won a new hearing on claims that its rights under the U.S. Constitution to sell Nazi memorabilia can't be limited by French courts.
The Ninth U.S. Circuit Court of Appeals will rehear some arguments in the case against Yahoo brought by two French human rights groups: the Union of Jewish Students and the International Anti-Racism and Anti-Semitism League. The hearings will be held en banc — meaning all 11 members of the appeals court will sit on the case rather than just a panel of three judges.
The case has long been seen as a case study in the debate over where jurisdictional boundaries begin and end on the borderless Internet. Yahoo claims protection under U.S. free speech provisions, while the French have argued that since Yahoo does business in France, it should be held to French laws, which outlaw selling racist materials.
Whose Rules Apply?
The case stems back to 2000 and has reappeared in the public eye from time to time, most recently last August when a panel of the same appeals court ruled 2-1 against hearing Yahoo's argument.
At the time, the court said the request was premature because French groups had not sought to implement penalties levied against Yahoo. Those penalties include some US$14,000 a day worth of fines that might have accumulated to nearly $5 million in the interim.
Yahoo was sued in 2000 after the French groups found postings offering swastika-bearing flags, Adolf Hitler's "Mein Kampf" and other Nazi items for sale on its auction site.
Yahoo eventually took down the auction listings and, like eBay, has constantly revised its auction rules to limit the sale of potentially offensive materials. However, French courts found that Yahoo failed to fully stop the commercial activity it was determined the items could be found for sale through online chat rooms in the Yahoo portal.
Fordham Law School Professor Joel R. Reidenberg, who has written extensively about the case, said it has long been seen as a test of how democratic the Internet should be. However, he also argues that because Yahoo has "extensive business" in France, the application of French law is justified.
Reidenberg said the case highlights the need to build out the Web in a way that allows for different moral standards based on geography.
Bottom Line Thinking
Meanwhile, while some Constitutional scholars might want to see Yahoo pursue the case to clarify the thinking of U.S. courts on the international legal issues involved, another group of interest parties is watching for much different reasons.
Forrester Research analyst Carrie Johnson noted that most major U.S. retailers have begun to rely on overseas expansion to grow their businesses. From Amazon and Yahoo to eBay, many Web sites have a major overseas presence.
While some companies have purchased foreign firms and run their Web sites independently, the idea is for companies to be able to use the same technology and infrastructure to reach as many users worldwide as possible.
Having to customize content or limit what can be sold in any given location could pose a financial hardship for those companies. The argument, Johnson noted, is similar to the one made by e-tailers to avoid state-by-state sales taxes.
"These companies don't want to see anything jeopardize their international growth," Johnson added.