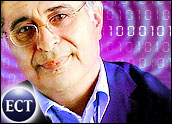 Internet portal Yahoo! (Nasdaq: YHOO) said Thursday it will cut 400 jobs worldwide as it refocuses resources away from unprofitable sectors.
Yahoo! plans to add as many as 100 jobs in growing areas, however, including sales, resulting in a net job loss of about 300.
Some of the job losses come as Yahoo! abandons its online business-to-business (B2B) exchange. After the job cuts, Yahoo! will employ about 2,700 people worldwide, the company said.
Yahoo! said it will shutter its Yahoo! Living area, which focused on home goods and design. Other job cuts will come as a result of an organizational shift.
Second Time Around
The job cuts are the second set for Yahoo! this year and in its history. In April, the portal said it would cut 420 workers after reporting a barely profitable first quarter.
Thursday, Yahoo! president Jeff Mallett said the company will streamline its internal organization, slashing the number of operating units from 44 business groups to five: listings and access, e-commerce, communications, media, and corporate business solutions.
Mallett said the new organization makes sense because all of the new business units are Yahoo! core strengths.
"They all represent areas that are or have the potential to be US$100 million a year businesses for us," Mallett said.
Less Reliance on Ads
Yahoo! CEO Terry Semel said that the company would strive to reduce the percentage of revenue coming directly from advertising, from historic levels of about 80 percent to as low as 50 percent.
"We have begun to show the results of those efforts, but we're not there yet," Semel said.
Several times during the day, Semel and other executives hinted that major partnership deals are coming soon.
"We aren't planning to wait around for an advertising rebound," added Wenda Harris Millard, who joined Yahoo! as North American ad sales chief this fall. "In the next six months you will see a significant number of relationships unfold."
Agent of Change
Semel, who took over as CEO earlier this year after Tim Koogle resigned, said Yahoo! would also seek to boost its share of revenue that its network generates by moving from being a "facilitator" of transactions in some areas to being an "agent" of those transactions, potentially by acquiring key companies.
"The more of the revenue stream we can capture, the better for us and our shareholders," Semel said.
However, Semel added, Yahoo! knows its limitations.
"There are businesses and areas we don't want to be in directly," he said. "It's in those areas that we'll seek to add partnerships."
Us Versus Them
Responding to questions about whether rival AOL Time Warner (NYSE: AOL) has an advantage over Yahoo! with its wide reach across many forms of media, Greg Coleman, executive vice president for North American operations, said Yahoo! doesn't apologize for what it is.
"We are an unadulterated pure play," Coleman said. "Everything we do is about making sure the Internet works for our partners. We don't have a magazine division or a movie division and we think there's a lot of joy in that."
Throughout the day, Yahoo! sought to highlight how each of its new areas is already moving to "monetize" the network's user base.
Pay to Play
For instance, in the communications area, thousands of people are signing up every day for premium services, from Internet phone calling to high-end Web hosting through GeoCities. Yahoo! also said that premium services in its Finance pages have performed well despite a downturn in the economy and less interest in stock trading.
Paid listings are another example of an untapped market, according to Yahoo!. Earlier this week, the company said it would partner with Overture, the search engine company formerly known as GoTo.com, on a paid listings program.
"We are going to make a big splash and a lot of money in the paid listings business," Coleman said. "What you've seen so far is only the tip of the iceberg."
Yahoo! shares, which have rebounded off their 52-week low of $8 in September, closed down 2.5 percent Thursday at $14.83.