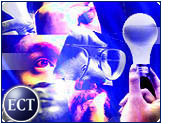 Popular search engine Yahoo! (Nasdaq: YHOO) will trade high-profile positioning for dollars under a new agreement with Overture Services — formerly known as GoTo.com.
Beginning Thursday on Yahoo's main search page, Internet users will see both the company's own keyword matches, compiled by Yahoo! staffers, and the top five paid listings from Overture, the companies announced late Tuesday.
The arrangement will run at least through April, at which point Yahoo! will either extend it or begin its own "Sponsor Matches" program, said Yahoo! and Overture, a company that connects online advertisers with consumers.
Yahoo! already provides services allowing companies to pay for prominent placement, though not on the main search page. "Sponsored Sites" is a fee-based service that gives commercial Web sites already listed in the Yahoo! directory prominent placement in specific commercial categories.
The company also has a program, Yahoo! Express, that allows businesses to pay to expedite their submissions for inclusion in the Yahoo! directory.
Jupiter senior analyst Marissa Gluck told the E-Commerce Times that she was not surprised with Yahoo's latest move on paid placements.
Don't Cross the Streams
"Yahoo! is trying to diversify their revenue streams," Gluck said. "They're trying to glean as much money as possible from both consumers and advertisers. It's a very tough market and Yahoo's numbers have not been great."
Gluck also said that while Yahoo! is faring better than most advertising-based search engines, she believed the company was inspired by Overture's pay-for-placement format.
"I think Overture has proven it's a very successful model online," Gluck said. "It's one of the few success stories we've seen in the last year."
Branching Out
Yahoo! said the paid listings will be in "clearly demarcated sections" alongside its own editorially chosen results.
"Yahoo! Sponsor Matches is consistent with our strategy to leverage our core strengths in order to build growing and diverse revenues," said Terry Semel, chairman and CEO of the Sunnyvale, California-based company.
"Millions of Internet searches conducted on Yahoo! each day are commercial in nature, giving businesses tremendous opportunity to market their products and services through enhanced placement in our search results," Semel said.
SBC Agreement
The Overture alliance is one in a series of steps Yahoo! has taken to boost revenue in a challenging online advertising market. On Wednesday, the company announced an alliance with SBC Communications (NYSE: SBC) to provide high-speed Internet access to consumers in the telecom company's 13-state region.
Beginning in the middle of next year, SBC subscribers will be able to sign up for a co-branded DSL Internet service that includes a package of Yahoo! premium services.
Over the past two months, Yahoo! has announced agreements to host the World Cup soccer tournament, open an e-book store and provide videoconferencing services.
Yahoo! in October reported a third-quarter loss of 4 cents per share, compared with net income of 8 cents a year earlier.
Pay for Play
Overture provides "pay-for-performance" search services, which charge advertisers only when consumers click on their listings. The company says more than 338 million "paid introductions" to its 49,000 advertisers took place using its service in the third quarter.
Overture says it has 80 editors who screen ads before distributing them to "tens of thousands" of sites, including America Online, Microsoft and AltaVista.
Pasadena, California-based Overture reported a 190 percent year-over-year revenue increase for the quarter ended September 30th.
Search Away
In a report released earlier this year, research firm Jupiter Media Metrix found paid search engines fare well during a soft online ad market, as they are able to align the needs of both the Web surfer and company marketers.
Jupiter said that while visitors to Yahoo! spent an average of 106 minutes on the site, GoTo.com searches took 56 minutes — evidence that consumers found what they wanted faster.
"Most advertising sellers have faced a depressed market and are reporting slow growth, but paid search engines have experienced much better results," Gluck said.
Paid Listings Draw Ire
Citing AltaVista, AOL Time Warner, Direct Hit Technologies, iWon, LookSmart, Microsoft and Terra Lycos, consumer advocate group Commercial Alert, founded by activist and former presidential candidate Ralph Nader, earlier this summer complained to the U.S. Federal Trade Commission that paid search engine placement was deceptive to the consumer.
Nader told the FTC that such search engine listings appeared like information taken from a database using an "objective algorithm," when, instead, companies had paid for their listings to appear in a certain order.