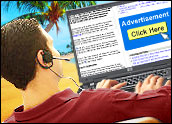 Yahoo and Viacom have struck a multi-year deal in which Yahoo will provide search and search marketing services to Viacom's vast array of online properties, providing a sizeable boost to Yahoo's core search business.
Specific financial terms of the deal were not disclosed. It calls for Yahoo to have its search capabilities built into many Viacom-owned Web sites, including CBSNews.com, MTV.com, VH1.com, NickJr.com and BET.com.
On those and other sites, a Yahoo search box will provide users with the ability to search a particular site or the Web. In addition, Yahoo search marketing content will be integrated into Viacom sites. Some searches will return paid search listings while Yahoo's contextual-based ad delivery program, Content Match, will also serve up ads alongside relevant content.
In addition, video clips and related content from some Viacom sites will be integrated into Yahoo's video search tool.
"Joining forces with Yahoo, one of the leaders in search marketing, enables us to deliver an even richer, more relevant online experience to our audience," said Peter Glusker, Senior Vice President of Viacom Digital Media Group. "Because our sites appeal to audiences across various demographics and provide a wide range of features and services, it's important to work with a provider with a breadth of offerings. Yahoo offers the flexibility, support and customized solutions we need for our sites."
At the Core
The latest deal comes at a time when the competitive landscape is changing rapidly. Yahoo has announced a slew of deals this week, including a co-branded DSL service with Verizon and a plan to offer unlimited downloads from its music store to SBC customers at a discounted price.
At the same time, Google made a big splash of its own, unveiling its Google Talk platform that enables both instant messaging and voice chat, a service that makes Google a late arrival in the chat business but potentially makes it a more direct competitive threat to Yahoo's portal status.
The Viacom deal harkens back to what is still the core business and the engine of revenue and profit growth for both companies — search marketing and related advertising services. Given that the Viacom sites together attract millions of users monthly, the deal represents a strong win for Yahoo.
Search Engine Watch editor Gary Price pointed out that the Viacom deals come not long after two other Web properties, iVillage and WashingtonPost.com, changed their paid search listing providers from Google to Yahoo. While it's unclear how much such switchovers hurt Google — if at all — Yahoo may be trying to capitalize on its recent momentum.
Hitting the Bull's Eye
It could also provide a needed boost for Viacom, the media conglomerate put together by Sumner Redstone.
Viacom recently split off its largest and growing family of Internet businesses into a separate business unit. Viacom has also been investing in new Web properties, recently buying the Neopets.com site, which gives it access to another slice of the youth market, where it is already strong with the MTV and NickJr sites.
Forrester Research analyst Charlene Li told the E-Commerce Times that Viacom and other companies whose holdings straddle both traditional and online media are realizing the potential for targeted advertising such as the Yahoo content-related ads and search listings can provide.
"The Internet offers more opportunities to focus advertising," Li said. "You know who's watching and can deliver more targeted marketing messages."
With sites that focus laser-like on certain demographic targets — Neopets on pre-teens, MTV on teenagers, etc. — Viacom will likely have little or no trouble convincing advertisers to market through its properties.