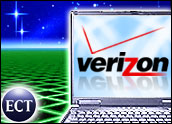 Looking to fend off Internet access competition from cable companies and entice those still using dial-up onto higher speed connections, Verizon Communications and Yahoo said they would work together to offer a co-branded DSL service at a discounted price.
Verizon Yahoo for DSL will be available in 28 states and Washington, D.C. and will start at US$14.95 per month for service that runs at a top speed of 768 kilobits per second. The service comes with a range of Yahoo content and other features at no extra cost.
While that's a fraction of the speed most cable connections run at, the price is also sharply lower and is designed to serve as a next-step upgrade for dial-up users.
Verizon Yahoo will replace Verizon's existing DSL offering for new customers and existing subscribers will be offered the chance to switch over starting later this week, the companies said.
Bob Ingalls, president of Verizon's Retail Markets Group, said the alliance will give consumers free access to Yahoo services and content that would otherwise cost as much as $200 a year to buy separately. "We're excited to offer our subscribers a choice of premium online experiences," Ingalls said in a statement.
Dan Rosensweig, Yahoo's chief operating officer, said the portal brings experience in dealing with other broadband partners — Yahoo and SBC have long offered a co-branded product — as well as "strong brand stature" to the new partnership.
Big Picture View
Independent telecom analyst Jeff Kagan told the E-Commerce Times that Verizon likely has its sights set on both short- and long-term opportunity, with the future opportunity a huge one that includes Internet, voice and cable television all on a single line.
"Verizon is looking to partner with a high-quality Internet service like Yahoo over high-speed lines to develop a customer group that is tied to the two companies and getting lots of specialized content," Kagan said. "Then comes voice and other things as the service expands in coming years."
While the service may help fend off competition from cable, which typically has higher speeds but also higher monthly charges, the main thrust is likely to lock in customers, especially those who may be clinging to dial-up connections.
"The price of $15 per month is cheap enough to sway any dial up customer. Money is no longer a reason to not have DSL," Kagan added. "Co-branding the service and offering Verizon and Yahoo content should not only convince many customers to sign up, it will also provide a way to hang on to customers since it is not the kind of service that can be duplicated."
In that way, the partnership also helps Yahoo, which is locked in a battle with Google, MSN and AOL over the eyeballs of portal users. By connecting users directly to its content, Yahoo is more likely to grab users who will remain loyal in the long run, unlikely to leave once they build connections through e-mail, instant messaging, stored digital photos, community building sites and other features. And boosting broadband usage in general helps both companies, by expanding the audience for services such as music and video downloads and other data-intensive offerings.
Cable Guy
The two companies said they would "gear up aggressive marking campaigns" both on the Yahoo network and through Verizon's standalone marketing to attract new customers. In a statement, the companies said they hope their partnership will "help increase broadband demand, as well as win converts from cable broadband access."
Among the Yahoo premium offering tossed into the service for free is a security suite with anti-virus and anti-spyware programs, 9 free Yahoo Mail accounts, unlimited photo storage on Yahoo Photos and the ability to personalize content from Yahoo's news, sports and entertainment channels.
The partnership isn't the first for Verizon and Yahoo. The pair hooked up for a co-branded wireless service and are working on a similar service for the high-speed fiber-based network that Verizon is building in many parts of the country.
Yahoo also has a high-speed connection partnership with SBC that offers similar access to Yahoo content and services. The deals complement each other, Kagan noted, because the two firms have different regional coverage areas and won't compete directly for the same customers.