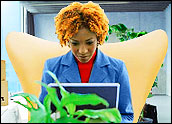 Seeking to tap deeper into a key demographic for advertisers, Yahoo on Monday launched Shine, a Web site meant to become an Internet starting point for women between the ages of 25 and 54.
Shine will offer content licensed from publishers such as Conde Nast and Hearst in nine categories, including fashion, beauty, relationships, healthy living and parenting.
Existing Yahoo content from the portal's astrology, health and food sites will also be folded into the site. Yahoo has also established an in-house editorial team — led by former Elle Girl and Jane editor Brandon Holley — that will develop original content, including blog posts.
Advertising Initiatives
Forty million women in the targeted age groups already visit Yahoo during any given month, the portal said. Shine will make a logical jumping-off point for the Web visits of those women while also giving advertisers a single destination to reach them, it added.
The new site is part of a larger strategic initiative spearheaded by CEO and cofounder Jerry Yang to make Yahoo the starting point of choice for more Web users and to make it the advertising outlet of choice by enabling marketers to better target their audiences.
Yahoo shares were down about 1.6 percent in morning trading Monday to US$28.52. The launch of Shine comes as investors await signs of how the drama of a potential takeover by Microsoft will unfold. The software giant's $44.6 billion offer to buy the portal remains on the table, but Yahoo has said it is not the best option for its future.
Shining and Breathing
Yahoo joins other media companies eager to become a destination for women who make purchasing decisions or have a hand in the vast majority of them. In fact, Yahoo calls the women "chief household officers" and says they are heavy Web users. Several advertisers have already signed on to the new site.
Last year, NBC Universal spent $925 million to buy Oxygen Media, which runs cable channels and Web sites aimed at women.
Yahoo developed Shine after it studied the market extensively and found that women want content that helps them manage their busy lives and ways to maximize the online time they have, Amy Iorio, the vice president of Yahoo Lifestyles and now publisher of Shine, told the E-Commerce Times.
"Women said, one, that they want a one-stop for everything so they can maximize their time, and two, that they're always doing for other people, so it's nice for them to have someone focused on thinking about their needs," Iorio said.
Yahoo plans to set the site apart from others in the market such as iVillage with its three-tiered content strategy, which will include original and repurposed editorial from magazines such as Glamour, Self, Bon Appetit, Redbook, Cosmopolitan, Harper's Bazaar, Good Housekeeping, Prevention and Women's Health; original content from Yahoo's team of 10 editors; and user content.
"Women are blogging more than men now," Iorio noted. "There's been a real explosion in that over the past six months. We're already hearing from women who are excited about that opportunity to have their posts appearing alongside that professional content."
Advertisers, meanwhile, are being given the opportunity to sponsor an entire channel on the site, meaning their ads will reach users as they drill down on a topic's theme. "We know that advertisers want to reach women where they're thinking about those kinds of products they're marketing," she said.
It Takes a Village
Another element that sets Shine apart is the scalability of the platform and the related Web services — such as mail and search — Yahoo can offer.
The main idea of the new site is clearly to aggregate the female demographic, Sterling Market Intelligence Founding Principal Greg Sterling told the E-Commerce Times.
"This is a critical online audience for advertisers," he added. Women are known to be the main decision-makers in many purchases both large and small, and they are likely to use the Web to explore purchasing decisions, including tapping into fellow users for their unfiltered opinions on products or services.
The site also leverages Yahoo's strengths in its battle against Google, AOL and others — its role as a trusted aggregator of content. "There's a majority audience out there for whom Yahoo could become the most vital and complete site on the Internet because of that role," Sterling said, adding that a strong social network to tie it together remains a key future ingredient.