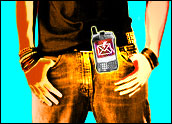 Bidding to offer a low-cost alternative to the dominant mobile e-mail platform, Yahoo has teamed with mobile carrier Sprint Communications to offer mobile messaging for around US$3 per month.
The two companies said the service would be available immediately in all markets where Sprint offers coverage. Yahoo's Web-based e-mail will be pushed to subscriber's mobile phones after they download software to their handsets.
Customers will pay Sprint for the service as an add-on to their monthly subscription plans. The service will work with a range of phones that Sprint offers.
Push Technology
The system will automatically synchronize a user's Yahoo Mail account, so that messages sent or read from a mobile device will be available from a desktop as well. Yahoo said the handset mail would feature a "PC-like interface," though some graphics will be held back.
Because it uses a "push" approach that automatically downloads messages, the approach is likely to be far more cost effective, and therefore more attractive, to users than using a mobile Web browser to access a traditional Yahoo Mail account. Such an approach can lead to substantial monthly airtime charges.
Push technology also means that downloaded e-mail is stored on a phone, which in turn means users can read already received messages even if they are out of a calling area or otherwise unable to connect to the network. That feature is one of the most popular with BlackBerry users.
For Yahoo, the service is another way to "extend core Yahoo services beyond the desktop," Yahoo Mobile Senior Vice President Doug Garland said. For an additional charge each month, users can receive text messages alerting them when new e-mail has been downloaded.
Target: Blackberry
The service seems aimed squarely at grabbing market share from Research In Motion's BlackBerry — or at least to attract more new customers than that market-leading device. According to London-based Ovum, 3 million of the 3.5 million regular users of mobile e-mail send and receive their messages on BlackBerry devices.
Yahoo is far from alone in targeting the market dominated by the BlackBerry.
Microsoft recently announced it would offer an upgrade of its Exchange server software that would enable enterprises to incorporate mobile e-mail more easily by using the Exchange platform and Windows Mobile-loaded portable devices. Such e-mail would be free for corporate users who have Windows servers in place.
And last month, Cingular announced it would make it own push e-mail offering available through a partnership with Good Technology.
Both of those services are squarely aimed at business users, who have been among the early adopters of mobile e-mail, a fact due at least in part to the relatively high costs.
Battle Royale
However, analysts say the appetite among consumers and small businesses for mobile e-mail is growing rapidly.
At the same time, carriers such as Sprint and Cingular are belatedly realizing the potential to make mobile e-mail a centerpiece of the menu of services they offer their users. Carriers now see messaging as a potential revenue stream and a method of building loyalty among subscribers.
Gartner Vice President Ken Dulaney told the E-Commerce Times that the rise of smartphones, which will help put mobile Web and e-mail capabilities into the hands of millions more wireless phone users in the next several years, has helped convince carriers of the opportunity.
"Network operators now recognize that they have an opportunity to deliver a service that users are going to seek out on their own," he said. Mobile e-mail might drive down monthly airtime charges in the short-term, but is going to be a service users demand from their carriers before long, he added.