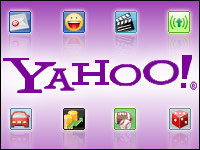 The chatter around a Yahoo deal increased on Tuesday and Wednesday as potential buyers and investors starting lining up. It appears Yahoo will be considering a deal to acquire a minority stake in the company by year's end, according to The Wall Street Journal.
Offers for roughly 20 percent of the company reportedly came in this week from a number of interested parties, including private equity firm TPG Capital, as well as a group made up of Silver Lake Partners, Microsoft and others. The bids were said to put a value on Yahoo at US$16 and $18 per share, but Yahoo is apparently seeking a higher price. Yahoo closed on Wednesday at $15.71, but shares on Thursday were up to $16.20.
Alibaba Wants In
Another offer is coming in from a joint proposal by Alibaba Group Holding and SoftBank. The group seeks to buy Yahoo's stake in Alibaba and 35 percent of Yahoo Japan. Alibaba and Softbank are reportedly also talking with private equity firms about teaming up to buy all of Yahoo.
Bain Capital and Blackstone are also working on a potential offer for Yahoo, according to reports. They haven't ruled out working with Alibaba and Softbank on an offer.
While Alibaba hasn't decided whether to work with other entities to buy all of Yahoo, the company's main goal is apparently to get back Yahoo's 40 percent share in Alibaba.
Yahoo's board is meeting to discuss the offers it has received for a minority stake, according to reports, but is not interested in selling itself as a whole. The board wants to arrive at a decision and make an announcement before the holiday begins, though there is no official deadline set.
Dana Lengkeek, a spokesperson for Yahoo, declined to comment for this story.
Bidding War?
With a number of investors ready to move and Yahoo's board taking up the offers, the situation could get competitive.
"We could see a bidding war," Rob Enderle, principal analyst at the Enderle Group, told the E-Commerce Times. "Since Microsoft wants to protect its investment in Yahoo, and because Alibaba wants a footprint in the United States, we have at least two highly motivated bidders."
That could send Yahoo's share price soaring, depending on how public it might become.
"A bidding war should drive the price up as long as these bidders continue to visibly bid," said Enderle.
The Yahoo brand has become a bit tarnished over the past few years. Internet companies have evolved dramatically since the heady days of the late 1990s. Even, so, Yahoo is a big name. Chances are a new investor will push to revamp the company.
"How Yahoo changes depends on who buys them," said Enderle. Yahoo needs a long term goal, and the company currently lacks one."
Yahoo has some strong core properties, such as its financial services, he noted.
"A new offering could be built around that," said Enderle. "But Yahoo also needs a purpose and a goal. It likely needs to be cut down like Apple was, cut to a seed from which a new stronger company can grow."
Yahoo Still Matters
While Yahoo has slipped in recent years, the company still has wide brand recognition. It also has millions of email customers.
"Yahoo is still an important property.As the largest portal, it concentrates Web traffic like no other site," Roger Kay, founder and principle of Endpoint Technologies, told the E-Commerce Times. "Bidding interest can only do good things for the stock price, drawing attention to the company's underlying value."
Yahoo's main role is as an aggregator of traffic, in Kay's view.
"The company's attempts to do premium content have met with mixed success," he noted. "I'd say, pump up what's working. That would include the section fronts such as Yahoo Finance and Yahoo Sports."