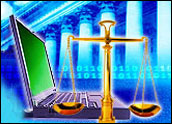 Yahoo has reached a tentative agreement to settle a class action lawsuit. The portal and search company agreed to pay millions in attorneys fees and potentially may have to refund millions more in advertising revenue.
The settlement, which was given preliminary approval Wednesday by U.S. District Judge Christina Snyder in Los Angeles, calls for Yahoo to pay US$4.95 million attorneys' fees. It also sets no limit on Yahoo's liability in the case in terms of how much it may have to pay in rebates.
Cash Only
That's in sharp contrast to Google's recently announced settlement in a related case, which saw Google's exposure to liability capped at $90 million, including up to $30 million in legal fees. Also, while Google has been authorized to give refunds through advertising account credits, Yahoo's will come in the form of cash rebates.
Because it covers a period during which paid search advertising was seeing explosive growth — the settlement covers the period starting in January of 2004 — Yahoo could potentially end up paying at least as much as Google, and possibly more, according to analysts.
Still, Yahoo expressed satisfaction with the terms of the deal with the Checkmate Strategic Group. The portal said the settlement was reached after Yahoo invited the plaintiffs' lawyers to see first-hand the company's Clickthrough Protection (CTP) system and offered to demonstrate how it has moved to reduce fraud.
"We're very pleased with this important settlement because it not only validates the strength of the search marketing industry and the effectiveness of our system, but also it allows us to move forward to work more closely with our advertisers and others across the industry to fight click fraud," said Reggie Davis, Yahoo's associate general counsel.
In order to pay back advertisers who may have been defrauded, Yahoo will extend the period during which advertisers can report suspected fraud from 60 days to more than two years, with Yahoo working with a retired federal judge to oversee the claims review process. Those who are found to have been the victims of illegal click-through activity will receive 100 percent refunds, Yahoo said.
It will also appoint an executive to act as an advertiser representative, charged with the task of monitoring the quality of traffic.
Definition, Please
Yahoo indicated it would work with others in the industry to help define what constitutes click fraud. There is a lot of confusion over the term and what actually should be counted as fraud in the context of pay-per-click advertising.
Yahoo and others say there are times when advertisers view unusual traffic patterns or click-through activity as fraud when in fact it is above-board activity or anomalies caused by unseen impacts, such as a competitor's advertising campaign or other factors.
The company said it would also commit the resources necessary to create a Traffic Quality Resource Center, where advertisers will be able to turn for information on click fraud and related issues.
The amount of click fraud that takes place is a source of much debate, with estimates ranging from about 10 percent to as much as 30 percent of all clicks on pay-per-click ads coming from sources other than truly interested consumers.
One prevalent source of click fraud is believed to be competitors, who may see clicking on a competitors' ads as a way of driving up their costs. Content publishers may also be guilty of clicking on ads, since Google, Yahoo and others pay sites — such as blogs or news sites — a fraction of the revenue they derive from pay-per-click ads.
Long Arm of the Law
The lawsuits may finally be able to prompt the major search companies into action on click fraud, said Skip Pratt, general manager of click fraud tracking firm PPC Trax. "Previously, they really lacked the motivation to tackle the problem," Pratt said.
In fact, he said, the continually escalating prices of some keywords has served to exacerbate the problem, but also may be what finally brings the kind of attention to it that could lead to real action. "When clicks are a few dollars compared to a few cents, the motivation to ensure each click is valid is a lot stronger," he added.
Some analysts have predicted that click fraud could derail the entire online advertising juggernaut if not brought under control. In fact, one of the largest drops in Google's share price, which occurred earlier this year, came just hours after a report predicting fraud would undermine revenue and profit growth for the search giant.
The fact that major search companies are moving to settle the click-fraud suits are a sign the industry understands the potential risks involved with having fraud grab headlines and make advertisers, consumers and investors question the true value of ads.
"The bottom line is advertisers want to reach their intended audience," said Sterling Market Intelligence analyst Greg Sterling. "Anything that stands in the way of that is obviously not going to help bring more ad dollars online."