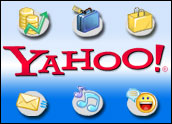 Yahoo has launched a limited test of Google's AdSense search advertising service, a move that Microsoft immediately slammed as anticompetitive and one that came amid a flurry of new developments in the Microsoft-Yahoo saga.
The test covers no more than 3 percent of the search queries generated from Yahoo's own Web properties in the United States online and will last up two weeks, the company said. During the test, Yahoo search results present Google alongside them, presumably to enable comparison over which marketing messages are more effective.
The Web portal positioned the move as part of its search for strategic alternatives to being acquired by Microsoft.
"As previously announced, Yahoo's board of directors is exploring strategic alternatives to maximize stockholder value, including exploration of potential commercial business arrangements," Yahoo said. "The testing does not necessarily mean that Yahoo will join the AdSense for Search program or that any further commercial relationship with Google will result."
In fact, the Google news quickly became part of a flurry of activity around the Yahoo deal, with reports saying that key moves were being made on both the Yahoo and Microsoft sides.
Plans in the Works?
Yahoo and Time Warner are close to a deal to merge the media giant's AOL Web operations with Yahoo, according to a report in The Wall Street Journal. As part of that deal, AOL would make a cash investment and take an ownership stake of about 20 percent in the combined company, and Yahoo would use the cash to buy back a portion of its own shares as a reward to shareholders.
Meanwhile, Microsoft is working on a plan to join with Rupert Murdoch's News Corp. on a combined acquisition plan, noted reports in The New York Times and elsewhere. Murdoch has said his company will not bid for Yahoo against Microsoft, but his ownership of MySpace could make him a key ally for the software giant.
Yahoo shares shot up more than 2 percent in morning trading Thursday to US$28.44. Shares of both Microsoft and Google were higher by about 1 percent as well.
A Competitive Imbalance?
The Google test, meanwhile, was the only officially disclosed news, and it brought an unusual response from Microsoft, with its general counsel, Brad Smith, saying linking Yahoo and Google together would create competitive imbalance.
"Any definitive agreement between Yahoo and Google would consolidate over 90 percent of the search advertising market in Google's hands," he commented. "This would make the market far less competitive, in sharp contrast to our own proposal to acquire Yahoo. We will assess closely all of our options."
The statement did not cite antitrust or other regulatory concerns directly, but seemed to suggest that Google's even more dominant position was problematic.
"I think the Google test is designed to raise Microsoft's bid," Peter Cohan, president of consulting and venture capital firm Peter S. Cohan & Associates, told the E-Commerce Times. "And Microsoft's antitrust counter attack is ironic given its own history with antitrust laws. But Microsoft could have a case if it could prove that a Google-Yahoo partnership would create a monopoly in search advertising."
If all the options begin floated are truly on the table, he noted, Yahoo's responsibility is to find the right option for shareholders, employees, customers and its future. "My hunch is that the Microsoft-News Corp. option would lead to a raised bid, resulting in the best outcome for Yahoo shareholders. But I question whether the integration of these businesses could be managed effectively."
All for Leverage?
The Google deal may help prompt a better offer from Microsoft, whether on its own or through a News Corp. partnership, Citi Investment Research Analyst Mark Mahaney said in a research note. He continues to see a Microsoft purchase of Yahoo as the most likely outcome and believes a boosted offer will get the deal done.
"Arguably, a worst-case scenario for Microsoft would be a full Google search outsource decision by Yahoo," Mahaney wrote.
In that light, a Yahoo-AOL linkup may also be bad news for Microsoft, since AOL uses Google to provide search advertising.
Microsoft has walked away from deals in the past when the prices got too high, such as in the case of DoubleClick, which Google eventually bought, and in earlier talks about acquiring or partnering with AOL, noted Gartner analyst David Mitchell Smith.
The original $44.6 billion offer did represent a more than 60 percent premium to Yahoo's share price at the time, but came as the portal was struggling with earnings and tough decisions such as layoffs, he told the E-Commerce Times. "Both sides stand to benefit from making a competitive number two to go up against Google. The question is whether the price Yahoo will take is in Microsoft's comfort zone given the upside it sees from the merger."
The spurt of activity comes just days after Microsoft issued a three-week deadline for Yahoo to enter into talks about a merger before it took its offer directly to shareholders, saying it may choose to lower the bid price at that time as well.