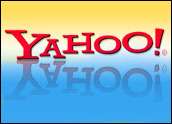 Yahoo said softness in parts of the advertising market led to a 37 percent drop in quarterly profits and prompted a lower-than-expected forecast for the fourth quarter.
The Web portal did say its new paid search ad delivery platform, known as Panama, was now up and running and on track to be fully operational by early 2007. Still, that news could not prevent a sell-off in Yahoo shares, which were down 2.4 percent in morning trading Wednesday to US$23.57.
Stock Expenses
Yahoo said net income for the third quarter was $159 million, compared to $254 million a year ago. About $80 million of the difference was attributed to stock-compensation expenses.
Revenue rose almost 20 percent to $1.58 billion. Both profit and income were within analyst expectations, some of which had been adjusted after Yahoo warned last month that it was seeing slower growth in demand for advertising from some key sectors, including automotive and financial services firms.
"While we are very excited about a number of things happening at Yahoo, I am not satisfied with our current financial performance and we intend to improve it," CEO Terry Semel said in a conference. "To be clear, we are continuing to grow our business at a pace many companies would envy, and we continue to lead the industry in key measures of performance — but that is really not good enough for us. We are not exploiting our considerable strengths as well as we should be."
Semel said the Panama ad placement system — Yahoo's attempt to match Google's automated, self-service ad platform — is up and running, with the first outside customer beginning to use the platform. The company plans to continue to gradually move more customers onto the platform, he added, in order to avoid disruptions during the key holiday quarter.
Yahoo's results were being closely watched because of its earlier warning that growth was slowing. Given its fourth quarter outlook was not as strong as some had hoped, attention is now turning to fellow Internet giant eBay, which reports third-quarter results after the markets close on Wednesday, and rival Google, which reports Thursday.
Shifting Ad Landscape
Semel said Yahoo continued to outgrow the overall online ad market, but was making changes to capitalize on shifts in the market. He announced that Yahoo had purchased a 20 percent stake in Right Media, an online advertising exchange for buying and selling ad inventory.
Right Media will help Yahoo sell so-called "non-premium" ad inventory, pages that typically yield lower rates — a market where it lags Google and others. The portal also disclosed the purchase of AdInterax, a provider of rich media technology that will enable Yahoo to offer video-ad design services to customers.
Semel also said Yahoo's partnership with eBay is "progressing very well" with full deployment coming some time during 2007, and that Yahoo's home page redesign is paying off with longer and more frequent visits from users.
Yahoo also addressed its approach to the social media space, with many questioning how it would respond to Google's purchase of YouTube and its $900 million deal to provide ads to MySpace.
"Yahoo has been a pioneer in social media," Semel said. "It is a long-term focus of ours, and we are a far bigger player in this space than many people actually realize." He cited the 2005 buy of Flickr and in-house projects such as Yahoo Answers as evidence of Yahoo's commitment to the social networking market. "We are convinced that the social media space will continue to grow and evolve and we plan to be a key player in this business."
Modest Outlook
Chief Financial Officer Susan Decker said Yahoo's data suggested it was growing page views at a rate of 24 percent, an indication that Yahoo was expanding its reach on the Web. Non-advertising revenues — those mainly from fees charged for premium services — were up 23 percent to $210 million. Yahoo now has 15.5 million paid subscribers to its various premium services, she added, each bringing in $3 to $4 per month.
"We are very pleased with our search volumes and believe we are generally maintaining query share," she said.
Still, rival Google, which reports on Thursday, continues to grab more market share in the paid search space.
Google's ad revenue growth rate for all of 2006 may be as high as 65 percent, far outpacing the still-respectable 18 percent growth forecast for Yahoo, according to eMarketer analyst David Hallerman.
Just a year ago, both companies had ad revenues of about $2.4 billion in the U.S., Hallerman noted, but this year Google will approach $4 billion and Yahoo will remain slightly below $3 billion.
"Google is not standing still," Hallerman told the E-Commerce Times. "By gobbling up YouTube, Google acknowledged that even though paid search gives it a robust revenue stream, that alone won't be enough to compete against Yahoo, MSN and other major players in the years to come."
Most of Yahoo's growth came from overseas, where its expansion rate was almost 30 percent, compared to 14 percent in the U.S., claimed RBC Capital Markets Jordan Rohan. That suggests a loss of market share in its domestic market in both paid search and affiliate advertising.
For the current quarter, Yahoo forecast sales of $1.145 billion to $1.265 billion, slightly below the forecasts of most analysts. Yahoo also said it would launch a program to buy back up to $3 billion worth of its own shares over the next five years, a move aimed at boosting its lagging stock price.
"This outlook contemplates slower but still solid growth in our core advertising businesses," Decker said. "We are not standing still. We are and we will remain very focused on making the best and most profitable use of our balance sheet."