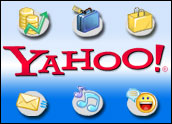 Yahoo Small Business, one of the most popular options for merchants to establish their first online presence, started to roll out a major upgrade Monday, revamping the way it gets merchants set up to focus more on immediate sales results.
The e-commerce platform, known as Yahoo Merchant Solutions, got the first of several planned upgrades, with a new, simpler process for establishing Web stores and loading product information.
Yahoo says about 40,000 merchants — or some 12 percent of all online stores — use the Yahoo e-commerce solution and about 1 million sites use Yahoo's hosting and Web design services.
The changes come from a new focus on getting merchants up and running faster, according to Jimmy Duvall, director of e-commerce products at Yahoo small business. The catch phrase for the upgrades is "results in 30 days."
"A lot of work has been done to make the process of getting started easier," Duvall told the E-Commerce Times. "But a lot of merchants still spend too long up front designing their sites and loading products and that delays them reaching their real goal, which is to start generating sales and getting the money flowing."
Guided by Wizards
Yahoo said additional upgrades to its platform would include easier access to the Yahoo Shopping search engine and simplified online marketing programs that use paid search and other techniques.
Most Web hosting and site-building services today focus on features, Duvall claimed. "There's a lot of focus on checkmarks on various feature sets," he said. "We've talked to many merchants and found that those that are successful have success early on. They get started right away and then they build from there."
The first new feature is a design wizard, which is meant to further simplify the site-building process by walking merchants through a few basic steps. E-commerce site design has come to be standardized around a few designs, Duvall noted, leaving merchants to choose a few basic elements, such as color and other design effects and what text will be added.
From there, a second tool, known as the "add-a-product" wizard, lets merchants upload product information to their new site, either one item at a time, or in large groups if they have them in a pre-set database format.
"We've found that merchants who start a store with a simple handful of products to get up and running do the best," Duvall explained. "Once they start to get a taste of success, they already know what sells better or worse. The reality is that the best way is to start off very simply and make sure the site is functional and operational before you start adding 10,00 products."
The wizards do a lot of behind-the-scenes work as well, including indexing and meta-tag creation to ensure that sites and products being offered can be found on the major search engines. The wizards can also handle categorization and indexing of a site, something that trips up many newcomers to the Web.
Future rollouts will include a marketing wizard that will help people new to the lexicon of online marketing determine the best approaches without becoming experts on keywords. The platform will continue to offer third-party assistance and "off-ramps" to third party Web designers and other services. "There are times when that level of help is appropriate, but for most small merchants, we can get them to where they want to go by keeping them focused on the results they want," Duvall added.
Deep Pool, Full of Fish
The small business and merchant marketplace is one that Web companies have long seen as a key to long-term growth of the Internet and e-commerce. Despite plunging prices for Web domains and hosting services, millions of small merchants still don't have a Web presence.
Automated platforms such as those from Yahoo and eBay have helped many smaller businesses find a niche online, where search engines can bring them buyers who might otherwise have never found them.
The arrival of innovations such as local search and click-to-call advertising is expected to help convince another wave of small merchants and other businesses onto the Web in coming years, according to analysts.
"It remains to be seen how powerful a draw local search will be for small businesses to invest in an online presence," said Sterling Market Intelligence analyst Greg Sterling. "The consumer is becoming more aware of how the Web can be used to find local merchants and the process is getting simpler. That could add up to a significant trend in that direction."
Many may be kept at bay by the technical aspects of building a Web site, Duvall speculated. Template-style approaches offered by most major hosting services have helped make Web site creation easier, but Yahoo believes it has gone a step further. "The merchant doesn't want to stop thinking about their products and customers to learn a whole new language or technical skill," he said. "They want to use the Web to enhance what they're doing, not to embark on a second career with a whole new language and skill set."