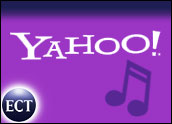 Bidding to capture a piece of a potentially lucrative vertical area of search, Yahoo has launched a test of an audio search engine that gives users the ability to comb through some 50 million audio files, from audio blogs and other spoken word programs to downloadable songs and albums.
The Yahoo Audio Search function draws from Yahoo's own network of music and spoken-word files, including files available for sale at Yahoo Music. However, it also will search files openly available on the Web as well as third party music sites including iTunes, eMusic, Napster and RealNetworks' Rhapsody.
Publishers can submit content to be included in the index. Audio searches also return related content, such as reviews, concert information and artist Web sites, using sources such as Billboard.com, RollingStone.com and MTV, and Yahoo's video search index can be scanned for relevant audio files as well. The search tool will not scan the words in an audio file, however, relying on the name or keyword descriptions of files to locate them.
Sponsored Listings?
Though the service might seem like an opportunity for Yahoo to divert traffic to its own music offerings — and away from those of competitors such as iTunes — users actually have the option of designating a preferred audio service, such as iTunes or Yahoo Music. Files that are searched for that are available at that service can then be reached with a single click. When files are not available at the preferred provider, Yahoo will offer suggestions for where the songs can be found.
One analyst noted that Yahoo's own music shop appears last in the list of locations where songs are available for download, since the list is alphabetical, at least for now. The search results currently come without sponsored or paid listings, but most analysts believe that will change before the service goes fully live.
John Thrall, head of multi-media search engineering at Yahoo, said the service will complement music services by "providing consumers access to an extensive array of other audio related content such as podcasts, spoken word and artist Web sites."
"Users have a starting point for finding all audio related content available on the Web, making it easy for users to find, use, share and expand their knowledge of audio-related content," Thrall added.
Legal Authorization
Search Engine Watch Editor Gary Price said the beta leaves room for improvement, but is still an upgrade over past audio search approaches, which fell into two categories: open search that found freely available files, and sites such as GoFish that direct users to downloadable files such as paid-downloads of music.
Price noted that it wasn't immediately clear how Yahoo planned to handle the possibility that files available for download without legal authorization could appear on the search results from the open Web search part of the service, though Yahoo did point out that it would not search or index songs on P2P sites such as Grokster and that it would remove titles if a copyright owner discovered unauthorized copies through the search engine.
He also pointed out that a music service is one of the few portal-type offerings that Google has not been widely rumored to be working on, though he noted that the search giant has already registered the GoogleMusic.com domain.
Search Engine Journal Editor Lauren Baker said the move makes "extreme sense" for Yahoo and it might be one of the few companies that could pull off such a blend of search offerings because it has existing partnerships in place with a range of entertainment companies.
Crowded House
Many other companies have designs on being the leaders of the audio and video search vertical, including Blinxx, which last month launched a service that uses voice recognition software to enable word-by-word searching of audio and video files, and Singingfish, which AOL bought in 2003 and re-launched last year.
That service is seen as helpful to researchers, but might not gain the same type of traction that an offering from Yahoo will in directing users to music for sale. After all, Yahoo has a strong advantage in the form of its huge well of content and the fact that it is already a destination for entertainment content, Forrester Research analyst Charlene Li told the E-Commerce Times.
"Yahoo is building on a solid base of content and looking to expand the relationship it already has with customers," she said.