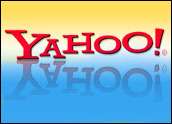 Yahoo on Monday filed a lawsuit against wireless content company MForma and a group of former Yahoo employees, alleging the theft of the Internet portal giant's trade secrets.
According to the lawsuit, which was filed in Santa Clara County state court in California, the employees copied large amounts of confidential business and technical data when they left the company and are using it in their new positions at the San Francisco-based competitor.
Yahoo is seeking a temporary restraining order to bar MForma from using any of the information in question. The company has not yet specified damages.
MForma and Yahoo could not immediately be reached for comment.
No Laughing Matter
The group of ex-employees took financial forecasts, business strategy documents and source code for Yahoo technologies designed to send content to cell phones, the suit alleges.
The lawsuit relies on archived instant messaging conversations in which the former Yahoo employees, mostly engineers and business development staff members, discuss their plans. The suit claims the defendants switched from Yahoo Messenger on company computers to AOL chat software in an attempt to cloak their activities.
According to the lawsuit, the defection began with a single employee, who recruited former colleagues. His actions violated contracts he had signed with Yahoo.
Difficult to Prove
Yahoo faced similar accusations five months ago. Nuance Communications sued Yahoo, alleging technology theft, after it hired 13 of its workers. The case was settled under confidential terms.
"When a group of employees leaves one employer in mass to go to a competitor, it is typical for the losing employer to believe that the ex-employees took some of their trade secrets with them," Robert Camors, an intellectual property attorney in the Silicon Valley office of Thelen Reid &Priest LLP, told TechNewsWorld.
While trade secret laws are used to protect customer lists, chemical formulas and other patterns, devices and techniques, Camors said Yahoo's description of "confidential business and technical data" is fairly vague, and trade secret suits can be difficult to prove.
Inevitable Disclosure
At one time, California case law made room for what's called inevitable disclosure. This concept argued that if an ex-employee took a similar position with a competitor, that employee would inevitably disclose trade secrets by virtue of the fact that they couldn't forget what they knew.
"California has backed away from inevitable disclosure as a rule of law. The court has to weigh the facts that are specific to the situation, but that has become a less attractive plaintiffs in these cases."
With electronic forensic discovery, legal experts said it would be difficult for anyone to copy trade secrets to a hard drive or send e-mails about their plans. If Yahoo's ex-employees instant messaged about their alleged coup, the truth is likely to emerge in the discovery process.