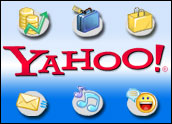 Yahoo said Thursday it had agreed to buy Bix.com, a site that enables users to create online contests that others can judge as the portal bids to bolster its lineup of social networking offerings.
The financial terms of the deal were not disclosed. Yahoo said that Bix.com founder and CEO Mike Speiser — also the co-founder of user-generated content site Epinions.com — will join Yahoo's own social networking and online photo-sharing division.
Interactive Approach
Bix puts another twist on the video-sharing approach used by YouTube.com, which Google recently agreed to pay US$1.65 billion to purchase.
Contests run the gamut from having others judge photography or poetry to beauty competitions and lip-synching, or users can vote interactively on home-made videos.
In Bix, Yahoo is getting a young company. The firm was founded in January 2006 but its service only went live in August.
On the site, users can create their own contests or vote in others. They accumulate points as they participate, and many of the contests offer cash or other prizes as an incentive for entering by sending in a video.
The site offers video and audio editing tools to help users create clips that are ready for the site and can be quickly entered into the contests.
Based in Palo Alto, Calif., Bix employs 16 people and is running on $6.8 million worth of venture funding received earlier this year from Trinity Ventures and Sutter Hill Ventures.
Response to YouTube?
It was expected that Yahoo would have to respond to Google's recent strong moves into the social networking arena, including the YouTube buy and a $900 million deal to be the provider of ads to News Corp.'s MySpace.com social network.
Whether or not the Bix buy is such a response remains to be seen. For its part, Yahoo has said its own existing stable of community sites had put it in good shape in the social networking space. For instance, it has many users of its photo-sharing site Flickr, though its Yahoo 360 experiment to connect users across various platforms has been disappointing.
The Bix site may have its own angle on monetization and buzz-building, as well. For example, amusement park operator Six Flags used Bix to set up a contest for the best scream, asking users to send in clips of how they react while riding roller coasters.
The site may also become a testing ground for casting, as Speiser said he's held discussions with reality TV show producers about using the site to have would-be watchers help select a show's cast.
Fad, Frenzy or Trend?
Bix also offers ways for users to connect with each other, providing both family-friendly and "mature" versions of its site.
Earlier in the week, Yahoo CEO Terry Semel told an online ad conference that future growth of Web ads has been underestimated, in part because projections don't adequately capture the potential for video ads and for monetizing social networking.
Still, not everyone is sold on the idea of social network sites becoming cash cows for their owners, even after Rupert Murdoch's News Corp. bought MySpace and Google scooped up YouTube.
Yahoo reportedly has held lengthy discussions with Facebook about a possible acquisition, but a deal has yet to materialize.
The real potential for YouTube and other sites, such as Bix, comes as they develop "a completely different kind of advertising form, one that is based on community engagement and involvement, rather than the traditional interruptive style of advertising," Forrester Research Principal Analyst Charlene Li told the E-Commerce Times.
Over time, such sites can help push online marketing "into a new, engaged form of advertising," she added.