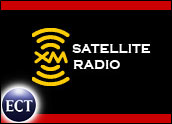 XM Satellite Radio posted second-quarter results that showed it managed to stem the flow of red ink that has dogged the company, thanks in part to strong gains in sales of new cars equipped with the technology.
XM lost US$175.7 million, or 57 cents a share, in the quarter that ended in June, compared with a loss of $229.1 million, or 87 cents a share, in the year-ago time frame, the company said. Revenue rose 22 percent to $277 million compared with $228 million last year.
The report came just two days after CEO Hugh Panero suddenly announced he would leave his role in August, making way for Chief Operating Office Nate Davis to take over as interim CEO. It also comes as XM and Sirius have ratcheted up their efforts to lobby regulators and lawmakers to step aside and let the planned merger announced in February go forward.
Continued Confidence
XM remains confident the deal will go through, Davis said in a conference call to discuss the results. XM now says it believes the deal will close either late this year or early in 2008.
"We don't entertain the thought the merger wouldn't go through," Davis noted.
On its own, XM signed up 338,000 net subscribers in the second quarter, giving it a total of 8.25 million as of June 30. The pace of new subscriber gains was slower than a year ago, when 398,000 users were added and the cost to sign up each new subscriber also rose to $75 from $67 a year ago.
Fast Cars
Sirius is due to report its second-quarter results on July 31.
The XM results cap a busy week for the two satellite radio providers. The companies unveiled on Monday a post-merger pricing plan that includes a new a la carte option that would let users select channels from both companies' lineups for as little as $6.99 per month as well as family-friendly and low-cost news- and sports-only options.
Sirius CEO Mel Karmazin announced that plan a day before XM and Sirius responded to questions from the Federal Communications Commission (FCC), the first regulatory hurdle the companies must overcome to win the right to merge. The FCC has raised questions about the impact of the merger on consumers, and has also noted that when Sirius and XM were first granted their licenses, the commission said no merger would be approved in the future.
XM and Sirius argue that circumstances have changed, with paid radio now competing with portable music devices such as the iPod as well as traditional terrestrial radio.
Last month, 72 members of Congress signed a letter opposing the merger on the grounds it would hurt consumers, a perception the companies are angling to change with the a la carte pricing options.
For XM, meanwhile, retail sales — direct sales of XM receivers and services to consumers — took a back seat to new growth from automakers, with a record number of new sign-ups coming through equipment already installed by original equipment manufacturers.
The company has refined its marketing efforts to make sure more consumers who buy cars loaded with XM remain with the company, Davis said.
"We have learned a lot about what it takes to turn a car buyer into a self-paying XM customer," he commented.
Succession Discussion
The results are clearly being overshadowed by questions about the merger, Yankee Group analyst Mike Goodman told the E-Commerce Times.
"Unless one of the companies were to stumble badly or really surprise on the upside, what's happening now is all a prelude to the real news about the merger," he said.
Panero joked in the conference call that he held back from issuing the usual reasons for leaving XM, such as wanting to spend more time with family. The lack of a specific reason helped fuel speculation he was being forced out of XM.
It's more likely that Panero was hoping the merger would already be approved, said Bank of America analyst Jonathan Jacoby, given that he had no specific role in the post-merger company.
The two companies clearly scored public relations points this week with their a la carte offering, which is known to be on FCC Chairman Kevin Martin's wish list for the deal to go through.
"They certainly said all the right things and used all the right buzz words," Jacoby said. Whether they improved the chances of winning the OK remains to be seen, but already investors appear to be treating the companies as joined at the hip, with the stock prices moving together, he added.
In afternoon trading Thursday — amid a brutal day on Wall Street — XM shares were down 3.7 percent to $11.63, while Sirius stock was down about 3 percent to $3.