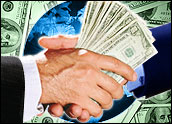 Interactive marketing firm 24/7 Real Media has agreed to be acquired by UK-based advertising giant WPP Group, continuing the trend of consolidation in the online advertising space.
London-based WPP will pay US$11.75 per share for 24/7, WPP said, giving the all-cash deal a value of $649 million.
New York-based 24/7 made it known earlier this month that it was in the market for an acquisition partner. Among those believed to have made overtures with the company is Microsoft, which was looking to answer Google's acquisition of another online ad firm, DoubleClick.
Marketplace Changes
WPP was motivated by the strong growth in the online advertising sector, which it said will be worth $33 billion worldwide this year, making up some 8 percent of all advertising spending.
The move reflects changes in the marketplace, noted WPP CEO Martin Sorrell.
"Our clients and therefore our industry are becoming more media- and technology-driven," he said.
WPP will independently run 24/7 with existing management in place, and it will be part of WPP Digital, according to WPP.
WPP is a massive advertising conglomerate whose holdings include high-profile Madison Avenue firms such as Ogilvy & Mather and Young & Rubicam. The company's 2006 revenues were nearly $12 billion.
Trend Continues
The purchase is a reminder of the desire of traditional marketing firms to be able to offer their clients Internet advertising expertise, business they are otherwise at risk of losing to online players such as Google, which are increasingly offering off-line marketing options alongside their Internet services.
The deal extends a recent run of consolidation in the space, which includes Google's $3.1 billion purchase of DoubleClick, as well as Yahoo's decision to pay $680 million for the outstanding stake of Right Media. Late last year, France's Publicis said it would acquire Digitas for $1.3 billion.
By buying firms with interactive experience, ad agencies are gaining access to technological expertise they might otherwise lack.
With 24/7, WPP gets a firm that does search engine marketing consulting and has an ad placement platform that works with major Web publishers and systems for tracking and reporting on the effectiveness of ads.
24/7 offers a host of online capabilities in a single purchase, noted Sterling Market Intelligence analyst Greg Sterling.
"This is about having the necessary digital assets to compete," he told the E-Commerce Times.
More to Come?
The current "land grab" in the interactive marketing area has both "rational and irrational elements" to it, Sterling added, with some companies motivated to make acquisitions before rivals get there first.
24/7 was in demand in part because many of the other firms in its space had already been acquired, noted JupiterResearch analyst Emily Riley, including Advertising.com, which AOL bought last year for a reported $500 million.
24/7 brought "high quality relationships" with both publishers and advertisers to the table, though for Microsoft, the value of the publishing platform would have been limited, since it just completed building its own such platform, she explained.
The deal would not be a short-term boost to WPP's earnings, the company said, adding that it was buying a fast-growing company, with 24/7 having posted 43 percent revenue growth for 2006. It also has important assets in online media — where its ad network includes 950 sites that draw 115 million users each month — search and technology, where its ad platform is used by more than 400 clients.