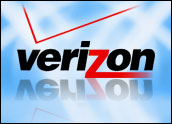 Telecommunications giant Verizon Communications reported a strong profit boost for its first quarter as growth in its wireless business and its fledgling video service helped compensate for losses in its traditional home phone segment.
The numbers from Verizon and those from competitor AT&T, which reported strong results last week, suggest the major carriers are not being pressured by the slowdown in the U.S. economy and continue to grow at the expense of smaller rivals such as Sprint Nextel.
Verizon reported earnings of US$1.64 billion, or 57 cents a share, up 10 percent from the $1.49 billion it earned in the same period last year. Its revenue climbed 5.5 percent to $23.83 billion, paced by a 13.2 percent growth rate in Verizon Wireless, which Verizon co-owns with Vodafone.
"Verizon has weathered the current economic uncertainty," said CEO Ivan Seidenberg. "We have further opportunities to drive revenue growth, and further opportunities to eliminate costs."
The results were about in line with Wall Street analysts' expectations. Verizon shares rose about 1.4 percent in morning trading Monday to $37.56.
Video Star
As in recent quarters, it was wireless and FiOS growth that paced Verizon's results.
Verizon Wireless added 1.5 million customers in the quarter — the most in the industry, according to Verizon — giving it 67.2 million at the end of March. The wireless unit saw an industry-low churn, or turnover rate, of 1.19 percent and saw data revenue soar nearly 50 percent, with customers sending more than 58 billion text messages and 1.1 billion picture or video messages in the quarter. More than 34 million music and video clips were downloaded during the three-month period as well.
Verizon's FiOS fiber-optics service continued to post strong growth as well, adding 263,000 new customers for the video service and 262,000 new subscribers to the Internet-only service. The company now has 1.2 million subscribers to its video service and 1.8 million getting high-speed access from the network.
Revenue from broadband services to consumers and small-business customers broke the $1 billion level for the first time.
For Verizon, the FiOS growth horizon remains a long one, with the billions it spent to build out the fiber-optics-to-the-home network poised to pay off for years to come, telecom industry analyst Jeff Kagan told the E-Commerce Times.
"FiOS is still in the very early stages," he said. "There is quite a bit of competitive fighting [expected] to take place over the next several years. However, their performance shows strong growth."
Even a significant public relations fiasco caused when Verizon took weeks or months to deliver free television sets to FiOS customers didn't slow the company down, Kagan noted, and the wireless business continues to get stronger.
"Verizon has won many new customers from Sprint's current soft spot in the marketplace," he commented. "Wireless data services continue to show strong growth. Customers continue to spend more on these wireless data, messaging and Web services."
Looking Ahead
Verizon will continue to transform along with the industry as a whole, Seidenberg noted. He cited the plan to use wireless spectrum it gained in the recent Federal Communications Commission auction to create an open wireless network compatible with all devices. Verizon won a national footprint in the closely watched 700 megahertz auction as well as more than 100 local licenses.
That transformation is necessary to help make up for steep losses in Verizon's traditional home-calling business, where millions of customers are giving up home phone lines for VoIP (Voice over Internet Protocol) services or to go completely wireless.
Wireline subscribers fell nearly 11 percent from a year ago, Verizon said, though revenue fro the sector fell just 1.4 percent — thanks largely to Internet access revenues.
The traditional phone losses were even worse than expected, said UBS analyst John Hodulik, but wireless continues to be a bright spot, with Verizon even outgrowing AT&T in the quarter.
"Verizon and AT&T continue to pull away from the pack," he told the E-Commerce Times. Worth watching over the long haul will be whether the carrier can sell more of those customers bundles of services that include high-end home services such as FiOS TV.
Though it ended the quarter with more than $35 billion in debt, Verizon said it "took advantage of market conditions" in the form of a swooning stock market to buy back about $1 billion worth of its common stock.