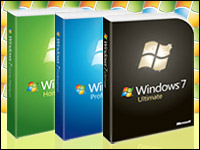 Windows 7 is now officially a year old. Since it was released October 22, 2009, Microsoft has sold more than 200 million copies of the operating system — approximately seven copies per second. That makes it the fastest-selling operating system in Microsoft's — or any vendor's — history. Windows 7 sales could top 300 million within the next six to eight months.
Microsoft has plenty of other reasons to celebrate Windows 7's first birthday. Windows 7 has also been one of the most stable, reliable and secure releases in the company's history.
A three-quarters majority — 73 percent — of the 400-plus respondents to the latest joint ITIC/Sunbelt Software poll, gave Windows 7 an "excellent," "very good" or "good" rating.
That's very close to the 80 percent majority of beta and early adopters who gave Windows 7 the same high marks in the 2009 ITIC/Sunbelt Software survey. The latest responses, coming after corporations have used Windows 7 in production for a full year, provide the best evidence that the Microsoft operating system is living up to the hype and fulfilling business' needs.
Only a small 3 percent minority of survey respondents gave Windows 7 a "Poor" or "Unsatisfactory" rating.
Redmond's Gold
Windows 7's immediate and intermediate future appears rosy: A 72 percent majority of survey participants said they had already deployed, were in the process of deploying or would shortly deploy Windows 7. Only 7 percent of those polled indicated that they were "unlikely" to deploy Windows 7 at all, and none of the respondents said they planned on switching to a rival operation system.
So great has been the demand for Windows 7, that it has fueled record revenue and earnings for Microsoft over the last three fiscal quarters. Microsoft recorded record revenue of US$16.04 billion for the 2010 fourth fiscal quarter ended June 30.
In fact, Microsoft's financials and balance sheet over the last several quarters are pure gold and are — or should be — the envy of just about any business.
Microsoft by the Numbers
Profit Margin: 30.02 percentOperating Margin: 39.51 percentReturn on Assets: 18.82 percentReturn on Equity: 43.76 percentRevenue: $62.48BQuarterly Revenue Growth: 22.40 percentGross Profit: $50.09BQuarterly Earnings Growth: 48.40 percentTotal Cash: $36.56BTotal Debt: $5.97B
Source: Capital IQ
Instead, 35-year-old Microsoft is often grimly painted as a company in midlife crisis, well past its prime and unable to compete in new and emerging markets like smartphones, search engines, online search and advertising, and the cloud against edgier rivals — most notably, Apple and Google. The fact that Microsoft garners far fewer headlines these days — about one-third to one-half as many mentions as Apple, Dell, Google, HP, IBM, Oracle, Research In Motion and VMware, to name a few — is viewed as a sign that it's a has-been.
Press is relative, of course, depending on the type of news one is generating. Still, the prevailing sentiments in the news business are that "No news is not good news" and "It's better to be damned than ignored."
Microsoft executives are no doubt grateful that they are not one of the headliners in the increasingly vitriolic verbal volleyball that characterizes HP and Oracle's disintegrating partnership. Similarly, press reports about Microsoft and its executives have been remarkably devoid of scandals such as those that have recently rocked the HP board of directors.
The question must be asked, then, if Microsoft's financials are so rosy, and its core Windows and Office products are in the black and thriving, then why are some industry observers writing the company's epitaph?
A Tale of Two Microsofts
The answer, of course, is that while the numbers aren't lying, they don't tell the whole story. For all intents and purposes, there are two Microsofts: One is the company that exists in reality; the other exists in the public's perception. And the two Microsofts are indivisible.
The reality is that Microsoft's core businesses — Windows and Office — are thriving, for now. The industry is inexorably changing, however. It is morphing from a fixed-premises, subscription-based licensing model, which has been the foundation of Microsoft's astounding success and dominance for the past three decades, to an increasingly mobile model. Today's workforce uses smartphones (BlackBerry, iPhone, Android, et al), tablets (the Apple iPad), and free email and applications (Google Mail, Google Docs) to stay connected.
In this emerging mobile workplace, Microsoft is playing catch-up and struggling to stay relevant, as rivals like Google and Apple continually assault its core applications businesses. The perception in many quarters is that Windows and Office will simply fade away. That won't happen anytime soon, if at all, although Windows and Office will transition from being tethered to a PC or notebook. Like mainframes, they will not become extinct.
It doesn't help Microsoft's case when high level executives decide to exit the company "to pursue other interests." Chief Software Architect Ray Ozzie, the iconic developer of Lotus Notes, is the latest high-profile departure. Ozzie, who was Bill Gates' successor as chief software architect, announced earlier this week that he was leaving Microsoft. No departure date has been publicly announced, and Ozzie will lend his considerable talents to the entertainment division until he exits.
Ozzie's news follows on the heels of Robbie Bach's and J. Allard's departures earlier this year from the entertainment and mobile divisions, respectively. Bach and Allard reportedly clashed with Microsoft's chief executive and other executives on technology direction. Such divisions were made sharper by the flagging fortunes of Microsoft's mobile and entertainment initiatives. The company suffered the stinging embarrassment of pulling its Kin phones off the market in June, a scant six weeks after the products debuted to near-nonexistent sales.
Microsoft is now regrouping around Windows Phone 7, which targets business users. The new Microsoft mobile OS has garnered good reviews so far — now it has got to get users onto the platform. Microsoft will reportedly spend $400 million in a fall and winter marketing campaign throughout the U.S. and Europe. It has more than an immediate return at stake in Windows Phone 7's success, though. If it fails to gain tangible and significant traction, Microsoft may effectively be shut out of the lucrative but increasingly competitive and crowded smartphone arena.
Microsoft's To-Do List
Microsoft has other definite challenges — and they are daunting ones. It must accomplish the following goals:
Make more headway in the search market. Bing is a very good search engine and does have traction. Bing has an 11.2 percent market share, according to statistics released by ComScore earlier this month. However, that is far behind Google's 66 percent.
Clarify its Azure and BPOS cloud strategies. Microsoft has made significant strides in developing its cloud offerings, but its marketing is still muddy. It must craft a cogent and cohesive cloud strategy and communicate it so that it resonates with the masses of existing Windows customers and potential users.
Retain and attract top talent. Truthfully, the number and caliber of executive departures from Microsoft over the past several years has been no better or worse than the majority of high-tech firms. However, Microsoft is under a microscope and is judged more harshly than most of its rivals. Many of the departures were predictable; coming after decades of tenure and after the executives in question had made millions. That said, Microsoft must retain and attract top talent. Easier said than done, I know.
The biggest blow of all, of course, was Bill Gates' decision to retire from day-to-day Microsoft operations to concentrate on his philanthropic pursuits. This is great for Gates and his charities, but he's as close as you get to the indispensable man. Remember how Apple's stock stumbled when speculation was rampant during 2009 about Steve Jobs' health?
Microsoft has also taken a beating in the press with rumors that Ballmer may leave or be forced out of the top spot. The truth is that every high-tech firm needs a visible face like Jobs at Apple, the triumvirate of Larry Page, Sergey Brin and Eric Schmidt at Google, and of course, Larry Ellison at Oracle. Right now, there are no obvious successors or heirs apparent to Gates or Ballmer. For Microsoft's sake, Ballmer should stay at the helm for the time being.
Microsoft's Assets
Despite Microsoft's issues, it would be a big mistake to write the company off. There are lots of positives:
Revenue and entrenched market share and continued dominance in the Windows and Office markets should continue for the next several years.
The Xbox Kinect and Windows Phone 7 appear to be gaining real traction.
A broad, deep portfolio of cloud products have shown impressive growth in the past 12 months.
Microsoft is also a pioneer in another crucial emerging market: robotics. Microsoft's Surface is a multitouch, combination hardware/software product that enables users to manipulate digital content via gesture recognition, such as hand signals or real-world objects. Available since 2008, it has racked up some impressive wins and is in use at Disneyland's Tomorrowland, select Sheraton Hotels and Harrah's Entertainment.
Security and reliability have improved in the core Windows products. Microsoft's 2002 Trustworthy Computing Initiative has been a rousing success. SQL Server is the most secure of the major database platforms, with the fewest number of reported vulnerabilities associated with the platform since 2002, according to the National Institute of Standards and Technology's (NIST) Common Vulnerability and Exposures Database (CVE). And 86 percent of respondents in the ITIC 2010-2011 Global Server Hardware and Server OS Reliability survey rated the security of Windows Server 2008 and Windows Server 2008 R2 as either "Excellent" or "Very Good." Similarly, 50 percent of survey participants indicated that Windows Server security had "improved significantly" while 24 percent said it had "improved somewhat" over the last three years. At the same time, none of the survey participants indicated they were contemplating wholesale defections to rival platforms, although the number of individual users deploying Apple Macs and iPads is on the rise.
There is no question that Microsoft will survive and continue to thrive in its core markets. The looming question is this: Can Microsoft get its groove back to aggressively mount a challenge to Apple and Google in the lucrative mobile, online, entertainment and cloud markets? It must go back to its roots and aggressively play to its strengths. Microsoft's $36.56 billion in cash should buy a lot of advertising and a lot of talent.
---
E-Commerce Times columnist
Laura DiDio
is principal at
ITIC
, a research and consulting firm that covers the high-tech industry.