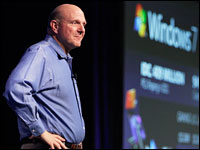 Microsoft's tablet project is a top priority for the company, CEO Steve Baller told financial analysts at a presentation Thursday.
However, he remained coy on the details.
Redmond is working with several OEM partners, and the new tablet will run Windows, Ballmer said.
Several vendors, including Toshiba and Archos, already offer tablets running Windows CE or Windows 7. Microsoft also launched a Windows XP tablet some years ago. However, so far, Microsoft's own efforts haven't been very successful. Will Microsoft finally grab the brass ring now?
Ballmer's Presentation
"Tablets were one of the points in Steve's presentation that people in the audience were quite interested," Neil MacDonald, lead Microsoft analyst at Gartner, who attended the briefing, told the E-Commerce Times.
Ballmer didn't provide too much specific information about the tablets, but he implied they would be available very soon.
Ballmer pointed out that Microsoft has had tablets for some time. Microsoft owns a great deal of intellectual property and has done a lot of work on ink, touch and other technologies, he said. Redmond is working with hardware partners and tuning Windows 7 to new tablet hardware that's coming to the market. Microsoft tablets will eventually run on Intel's Oak Trail processor, Ballmer indicated.
However, the Microsoft CEO refused to be pinned down to a ship date for tablets, saying only that they'd be available when they were ready. He promised that Microsoft will market tablets strongly.
Microsoft will probably go ahead and launch the first generation of new tablets with an older processor, then switch to Oak Trail when it's available, Gartner's MacDonald speculated.
"Oak Trail" is a system on a chip (SOC) based on the Intel Atom processor. It cuts power consumption of devices with full high-definition video playback running Windows 7, Google operating systems or Nokia's MeeGo, Intel claims. Oak Trail processors will be available in early 2011.
Ballmer also touched on Microsoft's financial strength, its leadership in the cloud, the boosting of its mobile phone program with Windows Phone 7, how well Xbox is doing and Xbox Live, said Al Hilwa, a program director at IDC.
"Microsoft has to play up its financial strength, in light of Apple's outstripping it in financial results," Hilwa told the E-Commerce Times.
Is It Real?
Microsoft's last attempt at offering a tablet was its ill-fated Courier project. News of this tablet emerged in September of 2009, but Redmond had shut down the project by April of this year.
Meanwhile, it doesn't appear to have had much luck with OEM partners.
Microsoft demonstrated the HP Slate tablet running Windows 7 in January at the Consumer Electronics Show. However, HP has since then downplayed that device and is now also working on one that will run the webOS operating system it obtained with the purchase of Palm earlier this year.
Meanwhile, several other Microsoft partners are reported to be switching to the Android operating system for their tablets, and several Android devices are in the wings.
Can Microsoft pull off its plans this time?
"Everyone is wondering how Microsoft can simplify Windows 7 enough to make it as foolproof as the iPad's operating system," IDC's Hilwa remarked. "How to make it instant on/off, how to make battery life last, how to speed up some of its workings."
No Brotherly Love in Redmond
However, perhaps Microsoft's problem isn't so much external competition as it is infighting among the company's various divisions.
"There appears to be a lot of internal debate on the tablet, and the much stronger Windows group won the debate over the new mobile team," IDC's Hilwa said. "Thus, the tablet strategy is now oriented towards a full Windows device of some sort."
That infighting destroyed an earlier Microsoft effort to launch a tablet, Gartner's MacDonald pointed out.
"If you go back two to three years, Microsoft had a tablet in the works, but internal infighting caused some difficulty in getting the device launched," MacDonald said. "Reportedly, the tablet was developed with gesture capabilities, but the tablet team needed the Office team to develop a version of Office that could be used with gestures. The infighting resulted in the product not being as successful as it could have been."
That infighting is due to Microsoft's organizational structure, he said.
"It's the way the business units compete that makes Microsoft miss business opportunities," MacDonald explained. "Getting a product launched really requires cooperation between business silos."
One Voice, One Hope, One Real Decision
Infighting is reportedly also occurring among senior Microsoft executives, some of whom are said to be unhappy with what they consider Ballmer's lack of vision. The dissidents reportedly blame Ballmer for Microsoft's failure to make progress in the mobile phone market and the company's sputtering efforts to launch a tablet.
Perhaps accusations that Ballmer lacks vision are not quite accurate.
"There is general criticism that Steve's not as visionary as Bill Gates, but his role is not to replace Bill," Gartner's MacDonald pointed out. "That's the role that Ray Ozzie and Craig Mundie play. Steve's job is not to have the overall overriding vision; it's more about execution."
Ozzie is Microsoft's chief software architect, and Mundie is its chief research and strategy officer.
Ballmer is showing leadership, but he has areas of weakness, and one of them is Windows Phone, MacDonald said.
On the other hand, Ballmer's management style might be suspect.
"I think Ballmer runs Microsoft a bit like a holding company, so if there are any missteps in vision, that has more to do with not cultivating a strong enough management team than any single decision by him," IDC's Hilwa opined.
"I think all of Microsoft's management needs to get out and about more and absorb some of what's going on in the real world once in a while," Hilwa said. "Still, this happens to all successful companies, and in the end, it's all about how they adjust. Microsoft missed the importance of the Internet some 10 years ago, then it realigned itself to be very successful at usurping it."