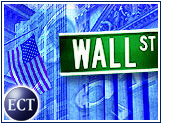 Williams Communications Group, Inc. (NYSE: WCG) was down 35 U.S. cents at $17.70 early Monday afterreporting a loss for the fourth quarter ended December 31st.
Despite the loss, the company said it topped analyst estimates for revenue andincome before taxes and other items, and predicted an operating profit bythe end of the current year.
Williams said it continues to remain confident in the ability of total network revenues to meet or exceed 2001 analysts' estimates, ranging between $1.3 billion and $1.4 billion. That would mean positive earningsbefore interest, taxes and other items by the end of 2001.
The Tulsa, Oklahoma-based provider of broadband and other communicationsservices said that revenue from continuing operations in Q4 2000 rose by $127.8 million froma year earlier to $287 million.
Income from continuing operations before interest, taxes, depreciation andamortization totaled $64.3 million, including $98.6 million of investmentgains, compared with a third-quarter loss of $9.3 million, including $50.7million of investment gains.
The loss from continuing operations for thefourth quarter totaled $55.7 million, or 13 cents per share, including a$148 million tax benefit.
The results were restated to reflect the company's planned sale of thecompany's solutions division. The company expects to sell its U.S. andMexican solutions operations by the end of the first quarter, with theCanadian operations being sold in a separate transaction later in the year.
"Now that our broadband network is in place, we are sharpening our focus ondelivering superior service [and] expanding access facilities to our customerswhose businesses are built on bandwidth," president and chief executive officer Howard E. Janzen said.
Williams said it completed its 33,000-mile broadband network in NorthAmerica at the end of 2000, a year ahead of schedule.
Williams Communications is affiliated with energy company Williams Cos.(NYSE: WMB).