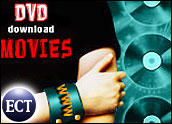 In a move that could spark a price war in the emerging video download marketplace, Guba Tuesday slashed prices for purchasing and renting newly released films and television show episodes.
Guba cut prices on new release movies from US$19.99 to $9.99, said it would make older movies from its catalog available for $4.99 instead of $9.99, and reduced prices on TV show episode downloads to 49 cents — compared to the previous price of $1.79. It also said it would offer movie rental downloads for 99 cents.
Content being put up for download includes films and shows from major studios such as Warner Bros., NBC and Sony Pictures.
Guba did not say how long the discounts would last, beyond saying the offer was for a "limited time."
The films can be viewed immediately after download on PCs equipped with Windows Media players. The site uses Microsoft's Digital Rights Management (DRM) software.
The promotion is an audience-grabbing move, one designed to cut off at the pass a growing number of new entrants into the video download market, including Apple's iTunes Music Store, which has expanded its video library, and iMovies.
Studio Friendly?
Though Guba has been around since 1998, the firm has begun to grab headlines in recent weeks. In June, Warner Bros. signed on to make its movies available through the download site and a month later, Sony Pictures inked a similar agreement with the site.
To date, Guba's audience has remained fairly modest, with the site counting around 1 million regular visitors who buy or rent video from the site. The price gamble could help change that, driving traffic to the site thanks to the publicity generated by the price cuts.
Other download sites may well follow suit, but studios may balk at extending discounts for too long at the risk of cannibalizing sales of DVDs, now one of the most profitable parts of the movie and TV show business.
The market will remain limited since most users don't want to watch movies on PCs, however. Exceptions are in cases where downloaded films are watched on portable notebook computers or in the relatively few cases where PCs are part of networked home entertainment systems.
Guba has previously said that it spent much of its early years of existence refining its technological capabilities so that it could assure studios that movies downloaded from its site will not be copied and resold or pirated. The site has relied largely on user-generated content until more recently, when studios began to put small parts of their catalogs on the site.
One major limitation on the downloads is that they cannot be burned onto DVDs. That restriction may help dampen demand, as most consumers still want to watch movies on their TVs and DVD players, said Gartner analyst Mike McGuire.
Testing the Water
"This is still a test phase for the studios and the industry," McGuire explained. "Hollywood knows the digital distribution model is one that will be a big part of its future, but no one is quite sure how it will play out."
Getting consumers used to downloading video is another goal of the price cuts, he added, with many likely to try it out with prices as low as 50 cents.
Many studios have been careful to keep their options open, working with Apple, for instance, but not signing exclusive deals. Some have indicated they will develop their own download businesses.
Apple has become a major player in the video download arena, where it has expanded from downloads of popular TV shows to include a wider range of content. Its iPod players that can handle video may eventually be just one piece of a broader product strategy that enables downloads to be played at home. Apple has also demonstrated it can protect content from piracy, though Microsoft's DRM technology seems to have an edge in the early running for controlling what consumers can do with their downloaded video.