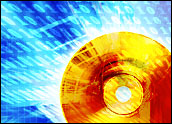 With floor space at large retailers at a premium these days, you'd think the allure of reducing all the aisles occupied by DVD movies to the footprint of a kiosk would be compelling, but that's not the case.
According to a studio executive who agreed to talk to the E-Commerce Times on terms of anonymity, there hasn't been any push on the movie industry by major retailers to provide content for DVD kiosks, which would allow consumers to download and burn movies at retail outlets.
"We work with the retailers in any way we can," the exec said. "If their business is good, our business is good so we're completely incented to work with them. But whether or not DVD burning kiosks is a priority for them at this point, given all the other challenges that they're facing, that's their call.
"Right now," the exec continued, "there is no date set, there's no retailer saying, 'We want to do this by such and such a time so help us get this done.' None of that is occurring at this point."
Not a Priority
The exec acknowledged that kiosks could benefit retailers.
"The idea that you could have an unlimited catalog at your disposal at a kiosk and you could do it in less time than it takes to develop a picture is a great idea," the exec observed. "Is it something retailers really want to do at this point? They'll get there at some point, but right now they're not saying, help us with this quickly."
Retailers reportedly interested in movie burning kiosks are Wal-Mart, Best Buy and Target (NYSE: TGT). It's estimated that those companies alone sell about 50 percent of all DVD movies at retail. Attempts by the E-Commerce Times to reach those retailers for comment were unavailing.
Rights Issues
Downloading and kiosks are currently used to distribute movies, although no one has paired the two together yet.
Online outlets like CinemaNow, MovieLink and BitTorrent allow consumers to buy movie downloads that can be played on their computers. Copies can't be made of those movies, nor can they be moved to a portable player.
The kiosks are used to rent DVDs, according to Lawrence Dvorchik, general manager of KioskCom, of Trumbull, Conn., a producer of trade shows.
"Kiosks burning DVDs are going to have the same issues that the ones burning music discs had, which is a rights issue," he told the E-Commerce Times. "Once that's settled, it just becomes another distribution channel."
Video Store in a Box
He noted that at the KioskCom show held in April, a DVD burning kiosk was displayed using software created by St. Clair Interactive Communications of Toronto.
A major maker of kiosks for renting DVD movies is Redbox, of Oak Terrace, Ill. It has about 1,400 machines in the market, half of them in MacDonald's franchises, according to Vice President for Marketing Greg Waring.
The units contain about 500 DVDs of 60 to 70 titles of movies released in the last three to four months. Consumers rent the movies for at 99 cents a night, which can be charged to a debit or credit card.
Buy Direct
A unique feature of Redbox's kiosks is that they're networked together, Waring said.
"Because they're all networked, customers can rent a DVD at one location and return them to any location we have nationwide," he told the E-Commerce Times.
Unlike a download kiosk, which theoretically would have unlimited choice of DVDs, rental kiosks have limited inventory. On the other hand, they don't have to deal with the rights issues that reportedly have been impeding development of their download counterparts.
"We use the same DVDs that you would get anywhere," Waring said. "We purchase directly from the movie studios."