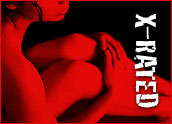 Debate has swirled recently around the practice of allowing movie lovers to download films from the Internet, burn them onto a DVD, and watch them in the comfort of their own living rooms. Now a controversial segment of the film industry is set to pave the way for more conservative studios that may be waiting and watching to see how this experiment pays off.
Adult film studio Vivid Entertainment on Monday launched a service called Vivid Burn to DVD. The new service lets viewers download the studio's popular adult films directly and burn a personal DVD copy on a home computer.
The burned video discs will play in any standard DVD player, allowing viewers to watch them on TV in the same manner as DVDs purchased at retail stores. The downloaded DVD file will also play on the computer to which it was originally downloaded.
"All you need to do is go to the All Adult Channel Web site, click on download and then burn the disk automatically. It's as simple as downloading a song, but you'll have a personal DVD you can take anywhere you want and enjoy anytime you want," said Steven Hirsch, co-founder and co-chairman of Vivid Entertainment. The service will charge about US$20 per film.
Anytime Access
Adult filmmakers have long been more daring that the rest of Hollywood, in more ways than one. Adult film companies are credited with pioneering the home video market and were among the first to leverage the power of the Internet to market its wares. For its part, Vivid is known for its innovative technological advances such as full function DVDs and a fast growing wireless program that is active in 20 countries.
"Porn has always led the way. No doubt about it," Andy Tarczon, vice president and co-founder of The Diffusion Group, told the E-Commerce Times. "Hollywood comes from a traditional media world, a world where Wal-Mart (NYSE: WMT), Best Buy and Circuit City distribute their DVDs. Since a large large percentage of movie revenues comes from DVD sales, Hollywood is wary or hesitant to change that model."
Changing the Format
Vivid's distribution has never included Wal-Mart — and probably never will. All Adult Channel, which has long carried Vivid features on its Web site on a pay-per-minute basis, developed the online distribution platform. All Adult Channel is owned by CinemaNow and serves as a proving ground for new and innovative video distribution technologies developed by the company.
Copies made on Vivid Burn to DVD contain all standard DVD menu features, including chapter navigation, specific scene selection, bloopers, behind-the-scene outtakes and biographical detail. The purchaser can even create a box cover identical to the packaging of the DVD as it is sold in stores.
"Hollywood is watching this very carefully as it tries to figure out what its next moves might be. You've already seen announcements where you can watch DVDs on the PC, but we know that the PC is not the center of the entertainment universe," Tarczon said. "The shift in model is inevitable. The challenge is getting the content from the PC to the center of the entertainment universe — the TV."
Copyright Questions
The key to the Vivid launch has been creation of a complete ecosystem for DVD distribution online, according to Hirsch. All Adult Channel developed a strategy that enables Vivid to protect the copyright.
"I think this is another example of how the adult industry continues to lead mainstream entertainment sectors in developing a technology that will one day be commonplace, just as we did with the VCR, Internet applications, video on demand, full exploitation of DVD technology and most recently, mobile TV," said Hirsch.