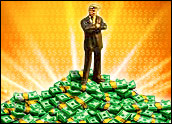 Acer's purchase of Gateway could help it become a top-tier PC maker worldwide over time, but a day after the deal was announced, questions were being raised about the US$710 million price tag on the acquisition.
Shares of Acer, traded on Taiwan's Taipei Stock Exchange, on Tuesday fell nearly 7 percent — the cap on daily losses on that exchange — as investors joined analysts in questioning whether Acer paid too much for the right to acquire the Gateway and eMachines brands in the United States.
Acer is "wasting its cash bullets" on Gateway, said Daniel Chang, an analyst at Macquarie Securities, in a research note. The deal is "overly priced" for the benefits Acer will gain, Chang added.
Ignoring Profitability?
"Acer focuses too much on market share and ignores its profitability," he said.
Published reports also suggest the door remains open to a higher bid from another PC maker, citing a clause in the deal that allows Gateway to turn down Acer if a better offer comes along. A Gateway spokesperson refused to comment on those reports, which suggested that Lenovo might use its deep pockets — it is now turning a profit in all of its markets and ended the second quarter with $1.5 billion in cash — to launch a counterbid.
Gateway shares continued to trade just below the offer price of $1.90 per share on Tuesday, however, suggesting investors don't put much stock in the chance of a higher offer being made.
Remaking the Map
Despite any misgivings, the merger will undoubtedly remake the PC industry in some key ways, including providing a substantially larger competitor for both worldwide market leader HP and No. 2 Dell to worry about.
If nothing else, the purchase gives Acer much greater scale, which it can use to further drive down costs, Ovum analyst David Mitchell told the E-Commerce Times. However, the key may be that in a single move, Acer trumped Lenovo in two key markets — the U.S. and Europe.
That's because before agreeing to be bought, Gateway said it would exercise its right of first refusal to match any offer for Packard Bell, a France-based PC maker considered a premium brand in Europe. Lenovo had been in talks to buy Packard Bell in recent weeks.
"Geography is the main factor" driving the deal, Mitchell said. "Taking Packard Bell away from Lenovo will damage its European growth aspirations — an important market that Lenovo must seek to expand in. Adding Gateway to the Acer stable increases its presence in the U.S. market — one where it has been traditionally less than dominant."
While it may be too early to tell if the price tag is too steep, Mitchell said the Acer-Lenovo battle is more than just two business rivals, with politics and culture playing a role in the standoff between a Taiwan company and one from mainland China. "They need to be mindful that they can become too focused on one another," he added.
Survival of the Leanest
The blow to Lenovo in Europe may have been more critical than any gains Acer can make in the U.S., said Endpoint Technologies Associates President Roger Kay. Lenovo is lagging badly in Europe and buying Packard Bell would have given it instant brand cachet there.
Given the poor profit margins in the PC business, some of the larger Japanese electronics companies may be willing to consider selling its personal computer line to Lenovo if it wants to counter Acer, Kay said. Those companies include Sony, Toshiba and Panasonic, all of which have single-digit market shares.
IBM made the decision to get out of the PC business because it recognized the long-range trend was toward lower prices. "The PC business became commoditized a long time ago and the paths to success now are to produce for lower cost or have strong differentiation of your brand," Kay told the E-Commerce Times.
Acer will use both its size and its Taiwanese location to drive down costs, while riding Gateway's retail presence to more U.S. sales. "Gateway would have had trouble surviving on its own for the long term," he added.