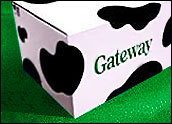 The long-consolidating personal computer industry is shrinking once again, with Taiwan-based Acer saying it reached a deal to buy Gateway in a deal worth US$710 million, a move that has implications in both the U.S. and Europe.
The once market-leading Gateway — the current iteration of which is itself a combination of Gateway and eMachines — will help Acer reclaim the position of third-largest PC maker worldwide, and will provide a platform for building a greater presence in the North American market.
Acer will pay $1.90 in cash for each outstanding share of Gateway stock, which soared some 49 percent in morning trading Monday after the deal was announced. The new company will have annual sales of about $15 billion and ship 20 million PCs around the world each year.
The purchase offers Acer a chance to get retail-level exposure in the U.S., where it has struggled to win brand awareness. Perhaps just as important is a side agreement made previously by Gateway, dating from the time of its eMachines merger, that gives it the right to match any offer to acquire Packard Bell, the France-based PC maker that Lenovo had announced it was engaged in talks to buy.
By grabbing Packard Bell, Acer would block China-based rival Lenovo from expanding its footprint in Europe and keep the two companies locked in a neck-and-neck battle for the third spot on the worldwide market share rankings behind HP and Dell.
Savings and Strategies
The two companies hope to close on the deal before the end of the year, they said, pending antitrust clearance from regulators in the U.S., Europe and other jurisdictions.
The purchase is "an important milestone" for Acer, said company Chairman J.T. Wang.
"The acquisition of Gateway and its strong brand immediately completes Acer's global footprint, by strengthening our U.S. presence," he said. "Upon acquiring Gateway, we will further solidify our position as No. 3 PC vendor globally."
Acer did not say whether it had plans to lay off any Gateway workers or make other changes to the company's presence in the U.S. The merger will create "significant efficiencies," said Acer President Gianfranco Lanci, including lower costs due to combined buying power of components. Gateway employees are "critical to our combined success," Lanci added, noting that over time, the merged company's product portfolio would be adjusted to "address different consumer segments."
Gateway is also in talks with an unnamed third party about the possible sale of Gateway's professional business line, which targets enterprises, the company said. The merger would add to Acer's 2008 earnings even before an estimated $150 million in savings are realized, it noted.
While both Gateway and eMachines are "powerful U.S. brands," the deal may have been motivated at least as much by the European element, Enderle Group Principal Analyst Rob Enderle told the E-Commerce Times.
Packard Bell remains a "powerful premium brand" in Europe, and Acer was about to be out-maneuvered by Lenovo to grab it. "By buying Gateway, Acer effectively moves around Lenovo," Enderle said.
Bye Bye Business
The fact that Gateway will divest its business-focused operations is a sign that major changes are coming in that market, he added. "There is an increasing trend away from PCs to thin clients and blades or to employee purchase of PCs, and this should accelerate that," said Enderle. Dell and HP probably don't have to worry, but other second-tier players such as Sony, Toshiba and Fujitsu may be ripe for another wave of consolidation, he noted.
Acer had managed to increase its U.S. market share organically, growing its take to 5.6 percent in the second quarter compared to just over 2 percent in the second quarter of 2006, Gartner analyst Martin Reynolds told the E-Commerce Times. Gateway's share had slipped to about 6 percent from 7 percent at the same time.
Acer has focused mainly on notebooks, where Gateway also has a wide line of products. Gateway has also made a stand in the still-model Table PC segment, with a variety of convertible models. Through eMachines, Gateway also offered an ultra low-cost option, Reynolds said.
Gateway's long history as computer retailer — it once had thousands of stores nationwide — may be valuable to Acer as well as the PC industry seems to be shifting away from a direct-sales model, which Dell had ridden to market dominance, to include more retail channel sales. Dell is now selling PCs through Wal-Mart stores, and Apple has shown with its retail stores that consumers are eager to buy from stores as well, Reynolds added.