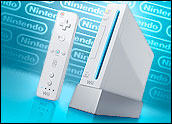 After a stellar month in September with the release of the much anticipated game "Halo 3," Microsoft passed the No. 1 console sales mantle back to Nintendo and its Wii console for October. Consumers scooped up 516,000 Wiis in October, about 30 percent more than the Xbox 360's 366,000 units and more than four times the number of PlayStation 3 consoles sold, according to figures released Thursday by NPD Group, a sales tracking firm.
"Basically, this [Wii] system is hot — it appeals to a demographic that is barely penetrated with gaming," said James McQuivey, a Forrester Research analyst.
Nintendo sold 15,000 more units in October than it did in September, while Microsoft moved 161,800 fewer units from store shelves.
Selling Strong, But for How Long?
Contributing to the Wii's continued success is a steady supply, he added. Nintendo is able to at least maintain supply levels recently, whereas upon its release in 2006 the console sold out every month.
However, while the Wii may have more consoles on store shelves now than it did immediately following its launch, the Wii is "manufacturing constrained," Rob Enderle, principal analyst at Enderle Group. Demand is high — its US$249 price, at least $50 less than its competitors — continues to be a huge draw.
"[That] means there is more demand than supply," he said. "It is also the most attractively priced of the new products. This is kind of becoming the iPod of this segment, and if that results, there is a lot of headroom left. On the other hand, content has been a little light and could cause slowing next year."
Although Wedbush Morgan analyst Michael Pachter believes console sales will be "very strong" throughout next year, he expects sales for the Wii "to peter out in May or June."
Gaming Bonanza
As the gaming industry heads into its busiest time of the year, sales for the Wii and Xbox 360 remained strong in October. October's total video game sales topped $1.1 billion, a 73 percent increase over the $643.3 million sold in October 2006. Meanwhile, hardware sales rose more than 100 percent from $207.1 million to $469.7 million.
Game software brought in $513.9 million, the NPD Group reported. Those sales were driven by the launch of "Halo 3" and "Guitar Hero III." The two recently released games accounted for $142 million in sales in October alone, Pachter noted in a Wedbush Morgan report on October sales. "Guitar Hero III," released on Oct. 28, sold $116 million in just the first week, according to NPD.
Thus far for the year, the gaming industry has raked in $10.5 billion, almost a 50 percent jump compared to this time last year. Holiday sales — those occurring between November and December — usually account for 40 percent of total sales, according to Pachter.
For game makers and console manufacturers, the numbers bode well for the coming holiday season, explained Enderle, who expects sales to continue to grow.
"Last October we were just short of the launch of the Wii and PS3, and typically that puts a drag on sales. This year there is plenty of supply for the PS3, and while the Wii is in limited supply, still they are selling through at a very high rate," he told the E-Commerce Times.
"This is a make-or-break quarter; they could almost take the rest of the year off," Enderle continued. "We are just entering the season. This should pull strongly until the end of the year."
Game titles play a large role in the industry's fortunes, as seen with "Guitar Hero III" and "Halo 3."
"Typically, a ramp like this is good for up to three months and then dies down a bit," Enderle explained. "But given what three months this hits [the holiday months], it has been a good thing. 'Bioshock' has helped as well."
Gift givers can expect "Guitar Hero III," available for the Xbox 360, the Wii, the PS2 and the PS3, to be a must-have for many gamers. Other popular games this holiday season include "Bioshock" and "Halo 3" on the Xbox 360; "Metroid Prime 3" and "Super Mario Galaxy" for the Wii; and "Ratchet and Clank" on the PS3, Enderle predicted.
"The PS3 has a nasty game problem," he added. "Xbox leads the other two platforms in top games by a significant margin right now, and if it weren't that the Wii changed the game — by opening up and expanding the market — conventional wisdom would have that platform as the strong leader right now."
Still Struggling
Part of the problem Sony faces is that the PS3 buyer is someone who already has one or two systems, McQuivey told the E-Commerce Times.
"They can wait to buy. The PS3 is a long-term play. Sony hopes to sell millions but has the patience to wait for that to happen," he explained.
The issue with that, however, is that its most direct competitor, Xbox, has already sold millions and continues to outsell the PS3, McQuivey continued.
"It looks like patience isn't going to be enough — prices will also have to keep sinking, though probably not this year," he concluded.
As the PS3 struggles, Sony can still look to its mega-selling PlayStation 2 to boost its bottom line. Consumers continue to purchase the older console, which has sold more than 100 million units, and game developers continue to include the console as well.
"Sony's apparent push has shifted back to the PS2, which seems to be getting more games and more attention as the true bargain than the PS3 from them — and it still dwarfs any of the current generation platforms in terms of market share," he concluded.