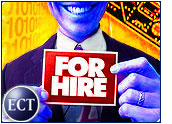 The year-end jobs report from Challenger, Gray & Christmas contained mostly bleak news. During 2001, more than 100,000 dot-com positions were lost amid an economic shakeout that cost two million U.S. workers their jobs.
But the firm's CEO, John Challenger, still managed to sound a hopeful note, predicting job growth in 2002 and beyond in some Internet sectors.
"The Internet is still burgeoning, and there is a lot of uncharted territory that will create new business opportunities and the job growth that naturally follows," Challenger said. "As creative entrepreneurs continue to find successful niches, the result will be more jobs."
Not So Easy
No one expects a flood of new job offers, least of all those left unemployed by a dreadful 2001. In fact, Challenger said job-seekers now expect it will take them nearly six months to find new positions, making today's job-seekers the most pessimistic in his memory.
Even optimists admit the jobs that are created will be largely in just a few sectors of the Internet economy — and they will be hard to find and even more difficult to land.
"It's harder and takes longer to find the good jobs," Alan Hoffman, technology jobs expert at Monster.com, told the E-Commerce Times.
But some companies will be hiring in 2002. And experts say any smart Internet job seeker would be wise to begin with one simple word: security.
Safety First
September 11th made security Job One for many companies, especially those using the Internet to connect with customers, suppliers and partners. And that, in turn, will mean jobs for people versed in how to make Web-savvy companies safe.
"Things have changed quite a bit after the September 11th atrocities," Nirmal Pal, executive director of the eBusiness Research Center at Penn State University, told the E-Commerce Times.
Pal said job creation will be most active in the fields of security, Internet privacy and business continuity planning — in other words, preparing for the possibility of another disaster.
Give Me an E
But other fields will grow as well, according to Pal, including some areas of e-commerce. He sees a continued need for customer-focused products and further refinements in existing procurement and supply chain technologies.
And while Penn State prepares students to enter the Internet economy, few are in a rush to join a Web startup.
"Students are shy of the dot-com world," Pal said. "B2B in their mind now stands for back to basics. They would prefer to work for a traditional company that works with the Internet. IBM, EDS, GE — they are in big demand."
Hackers and Crackers
And while the effects of September 11th will eventually subside, each new Internet innovation going forward will bring with it new security risks, making the security sector one of the best-positioned for the long term, analysts said.
John Gantz, chief research officer at IDC, said corporations will go through what he calls "the Bin Laden effect" where old information security plans are given a second look, spiking the need for experts in the security and business continuation fields.
A related development, Gantz said, will be more demand for streaming media as Internet-enabled video conferences replace business trips.
Gantz said most of the attention focused on Web services, however, will turn out to be hype for this year, but remains promising for the future.
Patience a Virtue
But others think growth in 2002 will be modest on most fronts.
While calling for growth in 2003, Forrester Research analyst Bruce Temkin said he expects the real rebound in technology and innovation spending to come in 2004, when the market for products and jobs alike will rebound with gusto.
"By then, consumers will be using a range of devices to access the Internet, and that will open up a host of opportunities that aren't materializing just yet," Temkin told the E-Commerce Times. "There won't be too much dramatic growth between now and then."