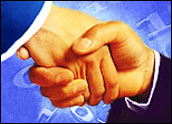 WebTrends Corp. (Nasdaq: WEBT) wasdown 2.375 at 30.50 early Wednesday after the company agreed to be acquiredby NetIQ Corp. (Nasdaq: NTIQ) for stockworth US$36 per share, or about $1 billion.
Under the agreement, which was approved by both companies' boards, WebTrendsshareholders will receive 0.480 NetIQ common shares for each of theirWebTrends shares. NetIQ shareholders will own about 76 percent of thecombined company, and WebTrends shareholders will hold 24 percent.
The acquisition will give NetIQ a market capitalization of more than $4billion, pro forma revenue of about $160 million for calendar 2000, morethan 52,000 customers, and about 1,000 employees.
NetIQ was down 9.75 at 62.25.
WebTrends chief executive officer Eli Shapira will become chief strategyofficer of NetIQ after the combination, and will join the company's board ofdirectors. The deal, he said, "will result in greatly enhanced offerings forour more than 52,000 collective customers, increased business opportunitieswith partners, significant value creation for our shareholders andcompelling opportunities for all our employees."
Other WebTrends officials will also stay on after the merger. President andchief technology officer Glen Boyd will become chief information officer,and chief operating officer Dan Meub will be senior vice president ofWebTrends products.
Corporate headquarters will remain in San Jose, California, where NetIQ isbased, with "significant operations" in Portland Oregon, which is home toWebTrends. The companies expect to complete the transaction late in thefirst quarter or early in the second.
Holders of about 30 percent ofWebTrends' outstanding shares have agreed to vote in favor of the merger,the companies said.