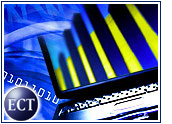 Read Part 1 of this story.
Clothing retailer Eddie Bauer has only been online since 1996, but it already is setting the pace among retailers when it comes to keeping its site running smoothly. In fact, Eddie Bauer claimed the top spot in the most recent Keynote Systems e-tail rankings, outpacing such online stalwarts as Amazon and eBay in terms of transaction response time and success rate.
But while such Web performance metrics are important — along with dozens of other data points that Eddie Bauer monitors closely — the most important ones are those that help the retailer understand how successfully customers are navigating its site.
"We focus in on the amount of time and effort that's required to complete a task," Troy Brown, divisional vice president for e-commerce at Eddie Bauer, told the E-Commerce Times. "We look at how much effort it takes for them to complete a task and how many customers enter a pipeline and don't finish a task or make that purchase."
Sea of Stats
The market for collecting and analyzing Web site data is booming; indeed, Jupiter Research has predicted the Web analytics sector will be worth US$1 billion annually within three years. However, companies that have achieved success in sorting through the sea of statistics say figuring out which metrics matter is key to mining ROI from them.
According to Forrester Research, the average Web analytics firm grew 15 percent in 2002 as retailers, particularly those that sell to customers via more than one channel, sought a better understanding of customer behavior.
"Retailers know how to analyze store behavior, but they're just learning how to figure out what customers who use more than one channel to shop are doing and what their behavior is telling them about their satisfaction levels," Forrester analyst Bob Chatham told the E-Commerce Times. "A lot of companies will grab at more and more data to try and figure it out."
More Than Raw Data
For Eddie Bauer, raw statistics are merely a launch point. "That tells us where we have problems or issues," Brown said. From there, the retailer turns to its usability lab as well as customer focus groups to help refine its site, which is constantly revamped and updated.
Much of the focus is on smoothing the path from browsing to buying. For example, Eddie Bauer recently revamped a shortcut geared toward multichannel shoppers, enabling customers who spot items in a catalog to enter the catalog item number and immediately view a product detail page.
Time is of the essence in such endeavors, said John Klinke, senior product manager at Keynote Systems.
"Retailers need to know their customers aren't hitting any slowdowns that might drive them away or make them think twice about coming back," Klinke told the E-Commerce Times. With more customers using high-speed Internet connections, he noted, slow-loading home pages or lengthy search wait times are increasingly unacceptable.
Image To Uphold
Still, speed is not the only factor, according to Brown. "The greatest struggle is finding that balance," he said. "You can make your site really fast by stripping out a lot of information, but then you're forcing customers to go looking for the information that you took out."
He explained that Eddie Bauer's ultimate goal online is to provide a hassle-free shopping experience that builds on its offline reputation. After all, he said, the company's history dates to the 1920s, and its multichannel brand image involves some 500 stores and millions of catalogs as well as its Web site. The Web site is seen as an extension of those two channels — and as a key touchpoint for customers.
"We have to put a positive face on the brand in the online channel," Brown said.
Payback Time
Sometimes even small improvements can pay major dividends. The first version of Eddie Bauer's catalog-number feature took customers straight to a text-based checkout page. However, the company noticed a lot of dropped purchases and set out to investigate. Based on raw data and focus group work, it developed and rolled out the revamped feature. Now, when customers key in catalog numbers, they are taken directly to product detail pages, where they can change colors and other item preferences.
In addition to providing what Brown calls a "more robust shopping experience," the shift dramatically altered the length of time it took for the average shopper to make a purchase, cutting order time by 60 percent. That reduction, in turn, has led to a 90 percent end-to-end completion rate — a metric many retailers no doubt would envy.
"The data told us where to start," Brown said. "The rest was just partnering with the customer to find out exactly what they wanted."
Similar success stories are being written across the retail landscape. CompUSA recently said it used an analytics product from Coremetrics to boost annual revenues by more than $2 million. The company's simple secret: It used data to identify which site visitors were most likely to make high-value purchases.
"The potential for what analytics can do is just starting to be realized," said Keynote's Klinke. Companies would do well to find out where they stand — and then act on that data.